HBU Online Student Orientation
Houston Baptist University's Moody Library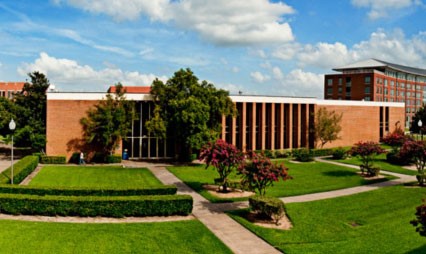 Online Students: You have access to the HBU Moody Library Journal Databases for peer-reviewed resources only from the library website under "Articles".  These resources are available using your HBU Portal login credentials (HBU email and password – no PIN is required). Two-thirds of our books are e-books, which are available via the "Books" search tool.
If you need assistance, please contact a librarian or a staff worker by calling 281-649-3180.  You can also use our CHAT service from the library's homepage.
Tutors are also available. Appointments can be via the phone or chat if necessary.    If you have trouble using Pathfinder, feel free to email the librarians at reference@hbu.eduor the tutors at academicsupport@hbu.edu.
As an online HBU student, you may also use the Moody Library in person while in the Houston area. Please display your HBU Student ID Card. Current HBU Students can receive their first HBU ID in the library on the 2nd floor.
Please visit HBU's Moody Library's website for more services:
Library Hours
Journal Articles Databases
Libguides/ Research Guides
Research Assistance
E-Journal Databases
InterLibrary Loan
*If you are a Houston local online student, we invite you to utilize HBU's Moody Library for research, study or just a place to complete your coursework. Students who wish to utilize the library and its services are required to obtain an HBU Student ID Card.