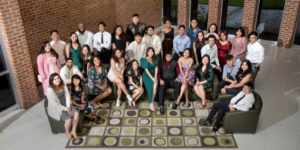 Before she came to HBU, Lauren Kay De La Calzada saw her older brother, Ralph, involved at HBU and serving as president of the HBU chapter of the Filipino Student Association. Seeing the connections he made, and the fun he had, drew Lauren to the same role as president several years later.
"I saw that relationship between FSA and HBU Nursing created who he is today," De La Calzada, also a nursing major, said. "I wanted to be surrounded by a group of people who wanted the same things."
FSA exists to help students learn, share and grow. Their mission includes giving back to communities in The Philippines. The chapter has organized projects including a Christmas gift drive, the funding of WiFi to a community, and a school library drive. "It was great to see college students come together to make that happen," De La Calzada said.
Although the FSA hasn't conducted traditional events lately incorporating culture and dance, the organization hasn't let the restrictions of COVID stop them from making the biggest impact possible. "Going into the time as president, it wasn't what I expected," De La Calzada said. "Usually the activities are set in stone, but we had to adjust and make new plans. I've grown in patience. There is a plan and God does move in different ways. He puts us in places we're meant to be in to further His Kingdom that way."
To other HBU students, De La Calzada said opportunities for involvement abound. "I think it's great to join an organization here on campus that's in line with what you're interested in and find a group of people who want to see you grow in whatever you want to grow in," she said. "You're here to get the degree, but you also want to find other things that help you grow as a person. It's super important to find that community. And if there is a group that isn't here yet, I highly encourage students to start something – you can make it happen and find the people. I don't always remember sitting in a class two years ago necessarily, but I remember ultimate frisbee, eating with friends, and laughing with them. I think these involvements are what I'll remember when I leave."