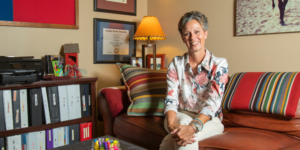 At 45 years old in a second career, I can with certainty say I am exactly where I am meant to be. Originally from Tomball, graduating high school in 1994 before graduating from the University of Oklahoma, one would think I had no idea what I wanted to do by looking at my journey. Trying to emulate my grandfather who was a geologist with Conoco, I started out as a geology major. But I quickly realized I unfortunately could not distinguish between different types of rocks – that wasn't for me. I changed to biochemistry thinking that I wanted to go to medical school. The summer I was scheduled to take the MCAT, I realized that was not what I wanted to do. I loved my philosophy classes, so I ended up changing plans at the last minute and graduating with a philosophy degree.
In hindsight, I realize the medical piece and the philosophy side too were always about wanting to learn more to help people. I wasn't exactly sure what I wanted to do, and I moved to Colorado. I took  a job teaching at a juvenile justice facility, which was also connected with a residential treatment program, and started a Master's in Education in Methodology and Curriculum with the University of Northern Colorado. I realized there's a lot more out there than I had been exposed to and there were a lot of people who needed more efficient systems of support.
I like interpreting data and figuring out how to help teachers help kids in the classroom. I came back to Texas and began working as a teacher in CyFair ISD  while I completed a supplemental educational diagnostician and master's degree program. I went to HBU for the Master of Education in Curriculum and Instruction. What I liked about the program was the professors and cohort were very diverse with a wide range of background experiences. Everyone brought something unique to the table and then we were able to collaborate and share our skills.
Over my 14-year career in education, I worked as a classroom teacher, educational diagnostician, assisted with RTI programs (Response to Intervention), dyslexia programs, early childhood programs, and special education assessments, all in the hope to better serve and meet the needs of students. I thought I was a secondary person but at the end of my 14 years in education, I went back in the classroom before going to law school and taught third grade. It was one of my best years in education. All of my experiences have built upon each other.
I saw there was a need especially to help those in special education make the transition after high school to become autonomous and independent and have the skills to advocate for themselves. Whether it's higher education or employment, I began to think beyond K-12. To be even more effective in advocating for the needs of the disability community, I decided to earn a law degree at Thurgood Marshall School of Law. I knew I wanted to stay in public service and felt like that would give me a more diverse experience and exposure  to cultural and diversity issues.
I graduated with a JD and work as an Equal Justice Works Disaster Resilience Fellow at Disability Rights Texas. Disability Rights Texas is the protection and advocacy agency for the state of Texas. Disability Rights Texas works to ensure individuals with disabilities are treated with respect and dignity and afforded equitable opportunities. My work now focuses on making sure the disability community has equitable opportunities throughout disasters in preparedness, response, and recovery efforts. With disasters like Harvey and situations like COVID-19, it's important we provide the needed assistance and resources for every individual in our community.
Disasters, unfortunately, are not going away. While disasters themselves do not discriminate, the inequalities which already exist are just exacerbated. Thus, secondary issues to the safety and well-being of disaster survivors are encountered in disaster lawyering.  Substantive issues in employment, housing, education, and healthcare can all be critical after a disaster. While there are systemic issues that require systemic change, helping one client makes a substantial impact.
Even though I'm in a different field than education now, my experiences and background make me a better attorney.
For students who are planning a career, I advise them to keep an open mind. You never know what's around the corner or how your experiences will fit in and be beneficial.
EJW page: https://www.equaljusticeworks.org/fellows/stephanie-duke-2/