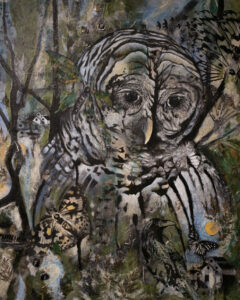 The Museum Of Biblical Art in Dallas, Texas has selected the work of Tiffany Bergeron for the permanent collection. Bergeron is Associate Professor and Chair of the Department of Visual Arts at HBU. Her work entitled, "The Barred Owl," (2021, mixed media painting, 30" x 24"), is her first artwork for the collection, joining three oil paintings from HBU Professor of Art and Senior Artist-in-Residence, Michael R. Collins. Bergeron's art will join an august body of internationally celebrated artists whose art shares the museum's themes of nature and creation within their mission.
"We are proud to have Fine Arts professors Tiffany Bergeron and Michael R. Collins represent HBU at the Museum of Biblical Art," said Dr. Robert Sloan, HBU President. "Not only are they singular artists, as represented by this prestigious honor, they are master instructors, helping students achieve their highest potential and best work."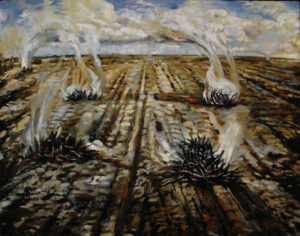 Speaking of Bergeron's work, Scott Peck, Director of the Museum of Biblical Art, said,  "Themes of nature and creation are within our mission. Her ideas of the dreamscape are very spiritual. Now, more than ever, we need the divine insights and comfort her artwork presents."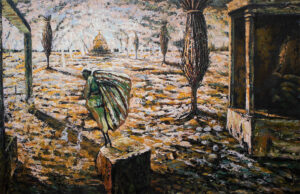 Additionally, the Museum of Biblical Arts will host a major international exhibition of artists during September 2021 through March 2022, commemorating the heroic response to attacks on our country on September 11, 2001.  Art produced by HBU artists and instructors, Michael R. Collins, Rachel Gardner, and Carlos Canul, will be included in this exhibition. A publication and a documentary film are being planned for this body of art, which will stay with the foundation in New York in perpetuity after the end of the Dallas exhibition. Each year this permanent collection will travel to museums around the world.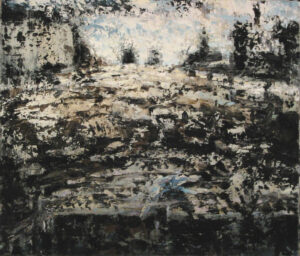 Of Collins' art, Peck said, "Michael Collins' art is primordial, yet fresh and timely, for a world that is looking for answers and that seems to have lost its direction or moral compass. The wisdom of ancient Greece and Rome with their concepts of beauty, culture and tradition are channeled into his painted canvases. Collins' artwork communicates the values of the Hebrew Torah and the essential morality of the Christian Gospels and the New Testament. Combine all of these Western perspectives with a respect for God's creation, conservation of the environment and stewardship of Nature in order to see the profundity and depth of artist Michael Collins. Spiritual, mystical and otherworldly, his paintings reveal aspects of the Divine."
HBU Fine Arts faculty members are accomplished in their craft and faith-driven. They train students to utilize proven concepts while maintaining individual style elements. Instruction is provided by classroom and one-on-one modes of studio demonstration that follow apprentice models. Graduates are successful artists, teachers, professors and more.