The University of Houston College of Medicine has opened and, in July 2020, accepted its first-ever class for the inaugural program. In celebration of its opening, UH President Renu Khator said, "Our dedicated faculty and students will work tirelessly, with boots on the ground in clinics across the city, to advance health care delivery and ultimately improve the well-being of our communities."
The worthy mission is being bolstered by an anonymous $3 million gift that allows the selected 30 students in the class to each receive a $100,000 four-year scholarship to cover tuition and fees. According to the Houston Business Journal, the College whittled the first class down to 30 from a pool of 1,728 applicants. Incredibly, two of those 30 students are HBU alumnae. They began the program in July 2020.
Ashlynn Mills
For Ashlynn Mills '15, the timing of God in her acceptance to the UH College of Medicine is evident. A decade older than some of her medical school peers in the program, Mills' journey began in Omaha, Nebraska. She had a son her junior year of high school and still managed to maintain high grades. She was awarded a full-ride academic scholarship to Iowa State University.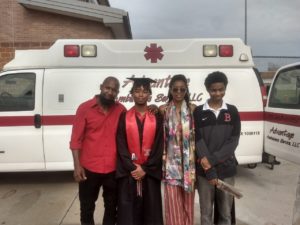 Since childhood, Mills knew she wanted to become a doctor. After a difficult start in college managing motherhood and schoolwork, Mills moved to Houston to be close to her mother in 2010. Mills continued her studies at a junior college before transferring to HBU.
"When I came to Houston, I heard great things around the city about Houston Baptist and their percentage of getting students into medical school. I enjoyed the faith-based education and the overall environment of the school," she said.
At HBU, Mills received the Presidents Scholarship and majored in biochemistry and molecular biology. "In the science department, everything was so tight-knit I really felt I could approach and speak with the professors." Outside of class, Mills was involved in student life on campus. She regularly served in "Mission Munchies," serving pizza after convocation on Wednesdays.
Upon graduating magna cum laude in 2015, Mills married her husband, Julian. Their two sons are Julian Jr. and LaMont. HBU's Office of Career and Calling helped connect Mills with a job role at the Advanced Health Education Center. Later, she helped with the Veterans Choice Program, ensuring veterans have access to care.
Mills took the MCAT (Medical College Admission Test) and applied to medical schools. When she wasn't chosen for programs, Mills refused to give up on her lifelong goal. "I tell my husband and my mom I never had a 'plan B' – I trust that my timing is different than God's plan and purpose for me."
A friend suggested that Mills teach in the meantime. She earned her alternative certification and taught ESL, Academic and AP Biology at Bellaire High School. "I spent four years there, and in that time, I was able to grow so much," she said. "Even though I never in a million years would dream of being a teacher, the plan for me was to understand and engage with students in a way that made me a better person."
Even as a dedicated teacher, Mills' aspiration to become a doctor wasn't a secret. She said, "It came to the point where the staff would see me in the hallway and say, 'Hey, Dr. Mills!'"
She plugged into her interest in natural foods and remedies by engaging in a family-run business selling honey, promoting the natural sweetener in local farmers markets. Mills enjoyed the process of reaching out to underserved populations with helpful information.
When she learned of UH's new program, Mills quickly arranged to take the new MCAT and applied. On the way home from the weekend markets, Mills often saw the UH sign indicating the future home of the new medical school. The dream seemed to be getting closer to her reach. Mills was particularly drawn to the school's mission to serve those who need it most.
As one of the last applicants to the program, Mills felt that this time would be different. She completed a secondary application, and then a virtual interview. Finally, the phone call to say she was accepted into the program could only be described as surreal, Mills said.
"Things are starting to sink in that I'm a medical student," she said. "It's been a long time coming. Right now I want to service individuals in the field of primary care – whether it's pediatrics or internal medicine. The school has already done such an excellent job answering our questions and providing us with lots of mentors."
The generous scholarship alone is enough to make one understand the reason for the delay in her goal, but Mills sees even more reasons why God allowed her to wait. "There's no way I would have dreamed of going through medical school and having it paid. All of the things were put in place in all of the places that needed polishing – from being a teacher to working with veterans to teaching people about natural food. Those opportunities  and that compassion can't be fabricated. That's going to translate to my patients."
Mills said she hopes her story is an inspiration to others. "Never give up on your dreams," she said. "No matter how old you are – if you're 15 or 50, there's passion and a dream that was planted in your heart."