Veteran perusers of these weekly rants have probably noticed that the Curmudgeon rarely says anything about musicals. One reason is that he doesn't want to be mobbed by a group of music teachers armed with pitchforks and torches; the other is that his childhood was scarred permanently by having to suffer through musicals his parents enjoyed. Even the trailers for coming musicals were painful.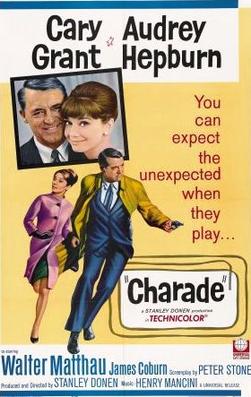 Many of the musicals through which the young Curmudgeon had to suffer were directed by Stanley Donen; however, by the early 1960s, Donen had moved away from musicals, partially because of strained relationships with Gene Kelley and others, and into drams deeply influenced by Alfred Hitchcock. I remember being very pleased in late 1963 or early 1964 by his "Charade." While most viewers attribute the film's success to Audrey Hepburn, Cary Grant, and a strong supporting case, the music of Henry Mancini was a serious contribution to that success. (Thank Heaven the villains never burst into song!)
Anyone who has read Edgar Allen Poe's short story, "The Purloined Letter," will figure out where the missing $250,000 everyone is seeking really is, but the identity of the major villain is cleverly concealed. There has been at least one remake of "Charade," but it must have tanked at the box office. Donen, however, did try to imitate Charade's success in 1966 with the Gregory Peck-Sophia Loren film "Arabesque." The film was mildly interesting, but the plot was far too derivative; the best thing about the film was Henry Mancini's score. Again, anyone who had ever been to a library in the 1960s would know where the missing documents were.
Of course there is a paradox. How could someone who never cared much for musicals be so fascinated by soundtracks? And, before the mob forms, let the Curmudgeon assure you that his tastes have matured. Musicals such as "Fiddler on the Roof" are among his favorites. (If, however, you ever want to see his face turn an alarming shade of green, just mention any of those horrible Andy Hardy movies in which producing a musical in the family barn was the excuse for the film's existence.)