Higher education provides a unique opportunity to shape the knowledge and wisdom of students for the trajectory of their lives. Professors carry out the noble occupation of preparing learners for careers and personal lives filled with purpose and success. Each year, the HBU Colleges and Schools select their Piper Professor Nominee. These individuals represent the very best in teaching and professional development in each college. Nominees are recognized for their effectiveness in the classroom, their work with students in advising and mentoring, their dedication to teaching, admiration and respect from their colleagues, scholarship in their field and contributions to the University.   
Dr. Levon Hayrapetyan Named a 2020 Piper Professor by the Minnie Stevens Piper Foundation

Archie W. Dunham College of Business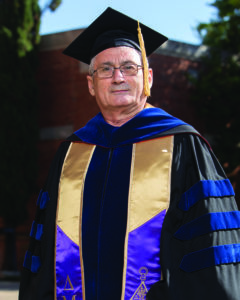 Dr. Levon Hayrapetyan, professor of Business, is the 2019-2020 HBU Piper Professor and represents HBU at the state level. He has taught in higher education for 40 years, including 20 years at HBU and 20 years at his alma mater, Yerevan State University (YSU), Armenia. He was granted the Permanent Residency status by the US government under the category Alien of extraordinary abilities in science and education. He began teaching at HBU after moving from Armenia in 1999. Dr. Hayrapetyan created a unique blend of American and European teaching methods and styles that enables him to identify students' strengths and arrange their learning around those strengths. His excellence in teaching and innovation has earned him multiple local and regional awards. He was the winner of The Teaching Excellence International Award given by the ACBSP (Association of Collegiate Business Schools and Programs), a competition that included 253 business schools and programs from around the globe.  
Dr. Hayrapetyan integrates teaching and research. His wide range of research interests include computational neuroscience, complexity of algorithms, scheduling theory, formal grammars and languages, decision science, data analytics, and pedagogy. He developed various interactive tools for visualization of abstract statistical concepts and clustering algorithms. Those tools are intensively used in Business Statistics, Decision-Making and Business Analytics courses at HBU. He is the author of more than 50 research papers and book chapters. One of his papers won the Alpha Iota Delta Innovative Education Paper Award (Federation of Business Disciplines), and three papers won the Research Awards (International Academy of Business and Public Administration Disciplines). He has presented his research at more than 20 international and regional conferences, where he also served as a session chair and/or discussant.  
At Yerevan State University in Armenia, Dr. Hayrapetyan was rated among the best professors in the College of Applied Mathematics at YSU. He was the head coach of the Armenian University Students National Olympic Computer Science Team for the USSR computer science Olympiad for two years (in Sverdlovsk, Russia and Minsk, Belarus). He was also a lecturer on the Armenian National TV show, "Informatics," and delivered weekly lectures on computer science which were broadcasted across Armenia. The Ministry of Education of Armenia selected Dr. Hayrapetyan to be a coauthor of the very first Armenian textbook on computer programming for university students. He was also selected to be a translator of all three computer science textbooks for high schools.  
Dr. Hayrapetyan earned a BS and MS in Applied Mathematics from Yerevan State University, Armenia, and a PhD in Applied Mathematics from Kiev State University, Ukraine. 
"What I came to realize throughout my undergraduate and graduate career was that three core elements determine how well a professor is able to make a difference for students: what they teach students, how they teach students, and how they treat students. For Dr. Hayrapetyan, he excels in each of these elements. His courses are extremely relevant to today's technology-centered world. I now work at a business analytics and database management company. Many of the core concepts I use were taught to me in Dr. Hayrapetyan's classes." 
Gabi Bourn, Director, Production Delivery at Wunderman Thompson Data 
BBA '14  
"His standard for his students is high, yet Dr. Hayrapetyan displays equal, and probably greater effort than that which he requests from his students. He shows this discipline regardless of the effort his students choose to give. To me, this did nothing but inspire me and cultivate the same determination for my studies – and not only in his classes. His character made an impact that reached far past the confines of four walls for three hours a week."  
Hannah McNaughton, HBU Senior 
School of Christian Thought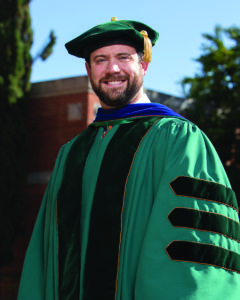 Dr. Timothy Brookins, associate professor of Classics and Biblical Languages, has taught at HBU since 2011. He specializes in the Greco-Roman context of early Christianity, with a primary emphasis in the Pauline epistles. His other areas of interest include Luke-Acts, Greek and Latin philology, linguistics, discourse analysis, Greek philosophy, Stoicism, Greco-Roman rhetoric, ancient education, and reception of Paul; he has also taught history, biblical studies, and theology. Dr. Brookins has published two books, including a commentary on the Greek text of 1 Corinthians, and has published some 20 book chapters and peer-reviewed journal articles. He is currently writing a commentary on 1 and 2 Thessalonians. Dr. Brookins has also received several awards and honorable mentions for his teaching and research, including, recently, nominations for the Society of Biblical Literature Regional Scholar Award (Southwest region), and the Society of Biblical Literature Achtemeier Award. He has served as director of Graduate programs for the School of Christian Thought, as interim chair of the Department of Theology, and as chair of the Department of Classics and Biblical Languages. Dr. Brookins has presented papers at numerous professional meetings, including the annual meetings of the Classical Association of the Midwest and South (CAMWS), the Society of Biblical Literature (SBL), the American Academy of Religion (AAR), and the National Association of Baptist Professors of Religion (NABPR). He earned his BS in Communications from James Madison University, a Master of Divinity in Biblical Languages at Southeastern Baptist Theological Seminary, a post-baccalaureate degree in Classics from the University of North Carolina-Chapel Hill, and his PhD in Religion, with a minor in Classics, from Baylor University.
Dr. Sarah Katelynn (Katie) Alaniz 
College of Education and Behavioral Sciences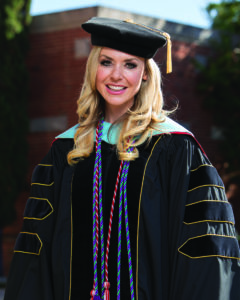 Dr. Sarah Katelynn (Katie) Alaniz, assistant professor of Education, teaches in both graduate and undergraduate degree programs within the College of Education and Behavioral Sciences, where she works with students seeking to make a positive impact in schools and society. Her teaching experiences include courses in curriculum and instruction, educational applications of technology, multimedia instructional strategies, and theories and applications of systems thinking. Dr. Alaniz also serves as director of Online Learning and Professional Development, supporting fellow faculty members in their endeavors to enhance online teaching and learning at HBU. She has designed and delivered more than 115 professional presentations in the United States and abroad, and she has authored or coauthored more than 15 publications, including two books in the areas of instructional design, collegial coaching for technology integration, and educational applications of digital tools and resources. Dr. Alaniz has also served on the dissertation committees of a number of doctoral students, including members of the first cohort of doctoral graduates from HBU. Her calling as an educator has led her to a wide range of professional opportunities, including more than 15 years of service as a teacher in public and private school settings, and nearly a decade of experience as a digital learning specialist. Additionally, for the past 11 years, Dr. Alaniz and her husband, Steven, have served more than 1,000 neighbors within the Houston community through a nonprofit outreach program called Apartment Life. Dr. Alaniz holds a Doctor of Education in Curriculum and Instruction with a Specialization in Learning, Design, and Technology from the University of Houston; a Master of Education in Curriculum and Instruction with a Specialization in Instructional Technology from Houston Baptist University; a Bachelor of Business Administration in Marketing from Texas A&M University; and a Certificate in Early Childhood and Elementary Education from the Texas Education Agency. 
Mr. Hans Molzberger 
School of Fine Arts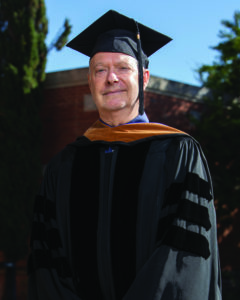 Mr. Hans Molzberger, assistant professor of Art, is an internationally renowned and distinguished artist. Mr. Molzberger has taught at HBU for 11 years, enhancing visual art by bringing technological innovation into the classroom for both BFA and MFA students. His work at HBU may be witnessed through student success as graduates have been awarded scholarships at major universities around the US. He is director of the residency, Atelierhaus Hilmsen, in Germany, his studio compound where he guides art students from HBU and other universities.  As a professional artist, Mr. Molzberger has exhibited his own work in museums and galleries internationally, including, Jenny Marx Museum, Salzwedel, Germany; Künstlerhaus, Hannover, Germany; Galerie Pankow, Berlin, Germany; Redbud Gallery, Houston, Texas; Gallery 68, Austin, Texas; University of Art, Berlin, Germany; and Les Tanneries, Amilly, France. He has been awarded residencies in France and has participated in international collaborative exhibitions including Arequipa, Peru; hearts and souls American-German artists working in the USA, and Rebels and Reformers, Gallery Altes Rathaus, Wittenberg. He has worked in Israel, France, The Netherlands, Poland and Russia. Mr. Molzberger was awarded a solo exhibition at the Art Museum of Southeast Texas, Beaumont, as well as Houston's Holocaust Museum. He and HBU colleague, Michael Collins, were awarded a two-person exhibition at the Holocaust Museum in Detroit. The concentration camp museum at Sachsenhausen, Germany, exhibits his works, together with the artworks from workshops that he directed with international work-camp groups and students. He has lectured at major universities including Texas Tech University, University of Corpus Christi, and the University of Texas, San Antonio. Mr. Molzberger received his training in Höhr-Grenzhausen, Germany, and earned his MFA from HBU.  
Dr. Encarnacion (Encarna) Bermejo 
School of Humanities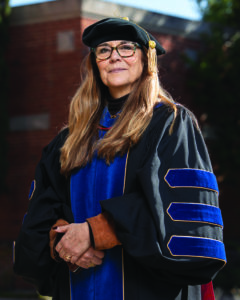 Dr. Encarnacion (Encarna) Bermejo, associate professor of Spanish, has developed many upper-division classes for HBU, including Advanced Grammar, Medical Spanish, the Art of Translations, Introduction to US Hispanic Culture, and Teaching Spanish to Mixed-Classes. Her teaching focus is to help students acquire proficiency in Spanish and an understanding of the Spanish Culture. Her areas of interest include the study of Spanish for Heritage Learners, second-language acquisition, and cross-cultural studies. She has presented educational lectures on Spanish as a second and heritage language in the United States, South America and Europe. She is coauthor of a Spanish Placement Exam that is currently used in several universities in the United States, including HBU and the University of Houston. Dr. Bermejo has published numerous articles in academic journals and collaborated as a consultant in the edition of several Cengage textbooks in Spanish. Routledge recently published her coauthored book, "Spanish Heritage Learners' Emerging Literacy: Empirical Research and Classroom Practice." She is also working in the areas of Spanish Heritage Learners' lexical development and reacquisition, Spanish for the professions, and in the design and implementation of teaching and learning strategies for Spanish advanced bilingual students. She has interwoven teaching and service by organizing and leading students in a study abroad program each summer at the University of Santiago de Compostela in Galicia, Spain. This lifetime experience cultivates, not merely language acquisition, but culture, history, practical experience and prepares effective global Christian leaders. Dr. Bermejo has also served on the dissertation committees of a number of doctoral students at HBU and the University of Houston. She has taught at the University of Houston, Sam Houston State University and Houston Community College. Dr. Bermejo received a BA in Business Administration from National Louis University, a MA in Spanish Linguistics from the University of Houston, and a PhD in Applied Spanish Linguistics from the University of Houston. 
Dr. Meredith O'Hara
College of Science and Engineering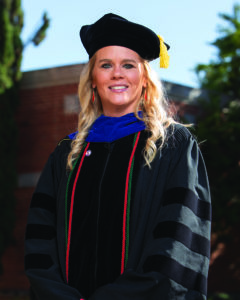 Dr. Meredith O'Hara, associate professor of Biology, joined the HBU Biology faculty in 2016; her primary teaching focus is undergraduate Biology. She specializes in embryology and the molecular and genetic mechanisms that occur during embryonic development. She also teaches Human Anatomy & Physiology courses with an emphasis on critical thinking and integration of physiological concepts about the human body. Dr. O'Hara's zebrafish research program has been instrumental in expanding HBU's biology department embryology studies. Her contributions to the College of Science and Engineering include her role as director of the Under the Microscope speaker series, as well as her new role as associate dean for Strategic Initiatives. Dr. O'Hara enjoys serving the University as the faculty assembly president, and was the organizer and host for the first ever TEDxHBU conference held on campus in October 2018, an event planned to continue on a biennial basis. In these ways, Dr. O'Hara has continued to contribute to the mission of HBU as a caring, challenging, and respected Biology professor who goes above and beyond her prescribed duties to help advance the vision of the University with events such as Under the Microscope and TEDxHBU. Dr. O'Hara has authored and co-authored publications on muscle physiology and muscular dystrophy and is currently collaborating on a publication about cardiovascular development. Before her tenure at HBU, Dr. O'Hara was an assistant professor of Biology at Concordia University in Austin, Texas from 2010-2014 and at California Baptist University in Riverside, California from 2008-2010. She has also taught courses at Lone Star College in Houston. Dr. O'Hara earned her BS in Biology from Pepperdine University, and her PhD in Biological Chemistry from UCLA.