Believe it or not, the Curmudgeon has a new film to review; however, it will not be to everyone's taste. The film in question, "Color Out of Space," played a few days before the current pestilence closed all the theaters, but it also went straight to DVD. Some early reviews hinted that the film might be of some interest, so the Curmudgeon risked his financial status to acquire a copy.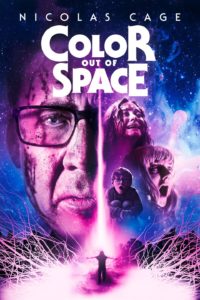 The Curmudgeon acquired a taste for the short stories of H.P. Lovecraft while pursuing his doctorate in the late 1960s and early '70s. Lovecraft and his horror stories had faded into obscurity after the 1930s; only a handful of enthusiasts had kept any of his material in print. An obscure paperback publisher, Lancer Books had successfully revived the Conan stories of Robert E. Howard and was looking at another potential gold mine. Lancer published at least two volumes of Lovecraft horror stories, but then the Ballantine Company began to republish his fantasy and science fiction works. We are now at the point of seeing scholarly editions of Lovecraft's works.
This is not to say that everything he wrote was a masterpiece. Some of his stories are the epitome of bad writing; Lovecraft made good money revising other people's material, but he refused to edit or rewrite any of his own material. Many modern readers are repulsed by the racism of some of the stories, but he was not the only writer from the 1930s to be guilty of that. When he was good, he was very, very good. His influence on such later writers as Robert Bloch and Stephen King is obvious. (King was also influenced by Shirley Jackson, a far more subtle writer than Lovecraft could ever have been.)
Back to the film. Nicolas Cage, whose career has not flourished in the last decade, is the only member of the cast I recognized. He is adequate, but not compelling, as a very bewildered father trying to hold his family together while something monstrous tries to destroy everything. The mysterious "color" arrives in a meteorite and begins to corrupt everything it encounters. In some ways, the film reminds me of those early 3-D science fiction movies of the 1950s; e.g., "It Came from Outer Space."
I did enjoy the film and I agree with the reviews that said it is probably the best adaptation ever of Lovecraft. Ignore such garbage as "The Dunwich Horror" in which Sandra Dee demonstrated exactly why her career was over. You can also watch the films of Roger Corman; some of his purported adaptations of Edgar Allan Poe were stolen from Lovecraft.
The one Lovecraft story which has lingered in my memory is "The Rats in the Walls." Poe's influence is glaring.
By the way, I don't recommend that you splurge on a DVD. I suspect this film will be available on cable all too soon.