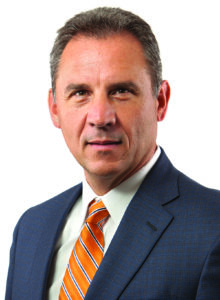 Coaching Philosophy:
My hope is that I live as Christ daily, and I strive to grow in my faith and deepen my relationship with the Lord. That's something that our coaches and staff manifest in their lives. We have to be about teaching those qualities. We want to give every player a great college experience. No matter their background, we create brotherhood; they learn to love and care about each other. You can expect to gain a yield back when you put in an investment.
After being a college quarterback, HBU head football coach, Vic Shealy, immediately entered into the coaching profession. He followed in the footsteps of his father, Dal Shealy, who was a division 1 football assistant and head coach for about 30 years before becoming the executive vice president of the Fellowship of Christian Athletes.
"I saw that power and influence of a coach in the lives of my dad's players and the impact a coach can make," Shealy said. "I think I got into it early on because I felt I would love being a coach."
Shealy achieved a successful coaching career of his own, particularly at Azusa Pacific University, where he was named the NAIA Coach of the Year and received the Shutt Coach of the Year Award from the American Football Quarterly.
When Shealy was named HBU's first head football coach in 2012, it was uncharted territory, even for an experienced team leader. "I don't think anybody in coaching gets into it thinking, 'I'm going to start a football program from scratch.' You don't ever set it as one of those boxes to check," he said. "There's been a lot of effort by a lot of folks – administrators, coaches and players alike."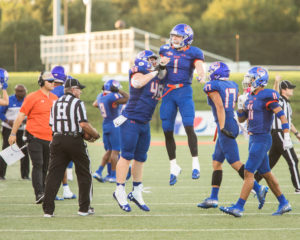 The team played its first season in 2013, and entered in the first official season in 2014. The Husky Stadium became the home turf of the team with the inaugural game held there in 2014. Since that time, Shealy and his assistants have continued to develop players to help the team and individuals reach goals.
"I think every day we're out there, I see achievements made," Shealy said. "I'm reminded about how far we've come, but yet still how far we have to go."
Some areas that Shealy is especially proud of are the team's faith integration and athletes' academic standing. "We've been able to see more than 70 kids in our program come to make a faith decision. It is more than just football," he said. "Football is just one tool we can use to have an impact on about 110 lives on this campus."
The tone that Shealy and the other coaches set is one reason Jerreth Sterns, a sophomore slot receiver, chose to play at HBU. "Our school and program are able to openly express their beliefs about Christ," he said.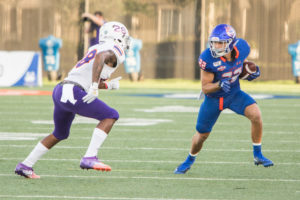 Ean Beek, a sophomore running back, is one of three Huskies in his family. His mother, Karla Foots Beek '96, was a volleyball player, and his brother Ethan Beek, is a junior cornerback for the football team. He said of his time on the team, "I've learned how to really work together."