Participants in HBU's Mock Trial team have a noticeable poise and warm demeanor. In Mock Trial, they must be prepared, professional and unflappable – those qualities have stuck.
Team president, Michael Dooley, has been on the team for two years. "Ultimately, our goal in mock trial is to be as prepared as possible. It's very time-intensive. You want to be the best you possibly can be," he said. "It forces you to push yourself more and more, and you see the dividends."
Mock trial, as the name suggests, involves an imitation trial involving a plausible scenario. Students take on the roles of witnesses or attorneys on opposing sides. Court case players must be believable and ready with an assertion or an opposing probe.
Students on HBU's team practice in the evenings twice per week under the guidance of Crystal Dang '12, an adjunct professor of HBU who teaches Forensics Communication. She is an associate at Dow Golub Remels & Gilbreath, PLLC. She, with the assistance of Kelsey Leiper, another local practicing attorney, has coached the team since 2016.
"The students learn analytical skills to digest a mock trial problem and develop a working case theory," Dang said. "They choose what witnesses they want to call and the evidence that they want to present. They learn the federal rules of evidence to argue objections and enter evidence, how to effectively present opening and closing arguments, and how to adapt their arguments to different judges."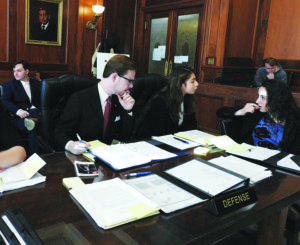 The HBU Mock Trial team competes at least once per semester against college and university teams in the area. HBU has done well. The team received an Honorable Mention at the 2019 American Mock Trial Association (AMTA) Open Round Championship Series (ORCS) in Tennessee, and was an Honorable Mention for the Houston Regional ORCS Tournament as well. Dooley earned a Top Witness Award, and Calvin Maynard, team captain, won a Top Attorney Award at the Houston Regional Tournament. Maynard also received a Top Attorney Award in Memphis.
Although many students involved in mock trial programs plan to enter the legal profession, the skills they learn are transferable into many arenas. "The students develop public speaking skills that go beyond being able to stand up and recite a memorized speech – they must think on their feet, be able to receive criticism and adapt quickly," Dang said. "The students also participate as a team. While one student may perform very well, the success of the team depends on everyone meeting their obligations. This allows students to learn what it means to be a good leader and a good teammate."
Team member Allison Klinge said, "I've always been interested in legal studies, but once you jump in, it's really overwhelming. In mock trial, I've had to learn everything through hands-on experience. I now know things I couldn't learn from a book or that a professor couldn't teach me."
Maynard described his practice in mock trial as mental weightlifting. "It's a little like exercise. You get stronger and better at whatever you work on," he said. "It has allowed me to think and discuss things more keenly than I would have otherwise."
Aldoluis Cantu Rauda said mock trial is about learning to reason. "Mock trial prepares you for how to think – how to prepare, answer and respond. It also helps you with work ethic," he said.
In planning for life after college, team member Diana Cardenas said, "I know with the skills I've learned from mock trial, I'll be able to do well in the professional world. Even if I'm not sure what my next step will be, I'll be able to adapt to whatever God calls me to do."
Other participants say they have grown in their confidence, relatability and wisdom. Dooley notes, "All of these positive things from being successful in mock trial rub off on you – the cordiality, the patience, the ability to see multiple perspectives – it's ultimately very empowering and useful."