The weekend of June 27 offered nothing that could draw me out of my shell, but I put the time to good use and watched all the episodes of the 1980s version of "Miss Marple."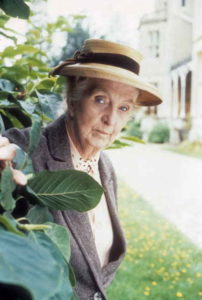 When I was six years old, I found a copy of Agatha Christie's "The Murder of Roger Ackroyd" and started to read it. My mother took it away from me on the grounds that I should not be reading murder mysteries. I had to wait until I was in the seventh grade before I could indulge my curiosity. I became thoroughly hooked on the exploits of Hercule Poirot, Miss Marple, Tommy and Tuppence, and other Christie sleuths. It did not take long for me to realize that Christie was very fond of breaking all the rules for mystery writers.
In the 1950s and '60s, I stayed away from the Miss Marple films starring Margaret Rutherford. In my eyes, she was almost the exact opposite of the character in several novels and short stories, but she does have her defenders. My personal favorite interpreter of the role is the late Joan Hickson. Agatha Christie once told Hickson that she was the one who should play the character and I heartily concur. Miss Marple, or, "the grey cobra," is a close examiner of evidence, but she is also very good at analyzing human behavior and often finds analogies by which she can enter the minds of other characters; Hickson is very effective in such scenes.
The final episode on my DVDs is "Sleeping Murder"; it is, by far, my favorite episode. The opening sequences show the influence of Alfred Hitchcock. Why would a girl from New Zealand have memories of watching a murder in the English house she and her husband have just purchased? The Gothic atmosphere builds nicely until Miss Marple finds a rational answer and proceeds to trap a murderer. This episode is unusual in that Miss Marple actually grapples with the murderer; of course, she takes him down completely.
I never paid much attention to the later Marple programs with Gertrude Evans and Julia McKenzie, but I know they also have their advocates.
I am relieved to note that a new Spider-Man movie is opening on the July 4 weekend; that should be more than enough fireworks for me.