A home is a place for spending formative moments, learning values, growing and creating strong bonds. Likewise, HBU has become that place for so many. It is a setting in which students have discovered their callings, grown their gifts, matured, committed to the Christian faith and made lifelong friends. For many, HBU isn't just a family in itself, but has become a family affair too.
---
Alumni
Damon Maddox, '00, MBA '03, is one of a threegeneration set of Huskies. His mother, Brenda Hodges Maddox, '69, was among the first graduates of the newly formed Houston Baptist College. She wanted her son to attend HBU, but it seemed God himself opened the way when he received a scholarship to run the sound for Focus, a University worship band. As a Christianity and business major, he gained a strong foundation for his main areas of interest.
"I definitely grew as a person at HBU and I matured immensely," Maddox said. "I got an education on how to interact with people and how to do business. Even now, I still refer to a lot of things I learned at HBU regarding faith and business."
Choosing HBU meant that Maddox had the ideal environment in which he could grow closer to God too. "I went from a young man who thought everything revolved around me to helping other people. I didn't go crazy because I was grounded in my faith," he said. "I completed growing up there."
Maddox met his wife, Jennifer Covington Maddox '99, on an HBU mission trip. Their eldest daughter, Kaylynn, will be entering HBU in the fall. "She's excited to go to HBU. It was neat that my mom went there, I went there, and now my daughter is going there," Maddox said.
HBU remains close to his heart. "I still have great relationships with several people from Focus and we get together on a regular basis," he said. Like Hodges Maddox, Helen Ludtke Anderson '68 was an early HBU trailblazer. She entered the school in the fall of 1964. "It was very small," she remembers of the campus. "Everybody knew everybody. It was quite an adventure; the students bonded and we are friends even to this day."
Anderson met her husband, Don Anderson '68, during her college years. He and his twin brother, Bob Anderson '68, were caretakers of the HBU mascot. A generation later, the Andersons' daughter, Tamara "Tammy" Anderson Banks '97 earned her degree from HBU.
"HBU was formative in that we met new friends and we kind of formed our outlook on life and our philosophy on life," Helen Anderson said. "It really gave us a basis for going out into the world and being ready for what we would face outside of school. The Christian component was also very important. I am grateful for that foundation."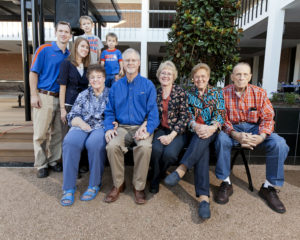 For David Appleby '69, the professors enriched his college experience as a student and during the decades later when he was a pastor. During his time as a student, Appleby founded Christian
Service Fellowship for people who were going into ministry. Student teams went to churches in the area as part of the outreach.
"The focus wasn't only on getting the facts, but on thinking through them. The professors weren't just academics, they were practitioners. They were extraordinarily helpful. Most of them became my friends. I got a letter from one of them every year," he said. "They were men who loved God and wanted to do something to help others."
Later, his daughters, Tabetha Appleby Franklin '93, and Stacie Appleby Bailey '03, followed in their father's footsteps. "There is a sense of gratification knowing that your children selected to go to the same place that you went," Appleby said. "You like to think they recognized you made a good choice and they wanted to make a good choice as well."
---
Current Students
Student Cody Ward first heard of HBU from his father, Dwight Ward '92. "He really loved the University and the Christ-centered atmosphere it provided," Ward said. When considering college options, they traveled from Burleson to allow Cody to tour HBU, and the sense of connection was immediate.
"When I walked around here, I felt like it was where I was supposed to be," Cody remembers. "I could sense the Holy Spirit here. It felt like home. I went to the summer and winter previews, got connected with some students and made friends really fast."

Now a junior, the Honors College student and Christianity major has made his own mark on HBU history. He helped found Husky Hype, a school spirit group, serves as a resident assistant, and has been involved in numerous student groups and volunteer service projects. He notably helped organize a cleanup operation during and after Hurricane Harvey.
"What sets HBU apart is the community; there is an emphasis here on discipleship and growth," he said. "To have others to walk down a similar path is very significant. It's unique to have men you can pray with. Coming to HBU has been part of discovering my calling."
Beeville native Leah Brewer first came to visit HBU when her brother, Philip Brewer '15, and now sister-inlaw, Morgan St. John Brewer '16, were students. "I was able to speak with other students and faculty when I came to visit," she said. "My faith has always been the most important thing in my life. Being able to speak with other professors and see the sound worldview they came from was probably the most attractive thing to me when I came here."
A Nursing major, Brewer has carved out a unique experience, participating in Bible studies, intramurals and being a student worker. "I'm a very naturally outgoing person. The on-campus experience is what you make of it," she said. "I didn't have family here so I sought out people and I have a lot of friends who are fantastic people."
Brewer appreciates personable professors as well. "Your professors know who you are; they're all very genuine people. Most of my professors begin class with prayer and say, 'Come by anytime' – and I do," she said. "I like it here a lot. I think it's a very God-honoring place."
For Maria Louise-Cook, transitioning to HBU from her time as a student at The Academy felt very natural. Her HBU lineage includes her great uncle, Edward Flores '72; uncle, Michael Alan Anderson '77; sister, Sophia Cook Seehausen '16; brother-in-law, Daniel Seehausen '17; and her brother, Nicholas Cook '17.
"My family has been growing up with HBU. It's kind of a second home for all of us," Cook said. "I've been coming to this campus for years."
Her time as an Honors College student and an English major has been exceptional. "Learning is fun here," Cook said. "There's such a friendly take to learning. There's this feeling of the upperclassmen and professors as spiritual mentors who share their experiences and their walks with God with you."
Now a Husky, Cook wouldn't change a thing. "When I was deciding where to go to school, I really looked back on how my siblings had loved their time here. I remember my sister coming home from school every day and telling me of the wonderful times she had – and my brothers too," she said. "And I knew I would not want for friends at HBU. Everyone is so welcoming. I would say that, coming to HBU, you will leave a better person who has been given every opportunity for spiritual and educational growth, and you will leave with the best friends you'll ever have."
---
Employees
Gairet Snow '16 and Jakora Frazier Snow '16 were HBU sweethearts, crowned homecoming king and queen in 2015. Now they give back to the University they love. Gairet is the Graduate School admissions coordinator, and Jakora is resident director of the Women's Residence College. In addition to their work roles, they disciple students and serve in the college ministry at their church.
"We never thought HBU would be our alma mater, workplace, community, home and mission field all at once, but we are so grateful," Gairet Snow said.
Jakora Snow said, "I'm thankful for how we have grown, and that we now have the opportunity to help other students as they discern how they are to glorify God in their classes, friendships and relationships."
Luke Humphreys, a first-year success coach, serves students in many ways including through a basketballbased Bible study and individual mentoring and discipleship. His wife, Tori, worked at HBU until the birth of their son.
"Not only have I been blessed by the genuine family culture of HBU, I've had the opportunity of sharing this HBU experience through intentional discipleship with our students," Luke Humphreys said.
Elysee Watson '14, copywriter for the Pampell Online Division, said, "HBU has always been home for me." Her mother, Loree Edson Watson '80, is HBU associate vice president of Financial Operations. Elysee's brother, Christopher Watson, graduated in 2012 before also serving the University for a time.
"We would go to basketball games as children to cheer on the Huskies, as well as attend other campus events," Elysee Watson said. "HBU has been part of my whole life, and I feel very fortunate that, every day, I am surrounded by so many people who also call HBU home."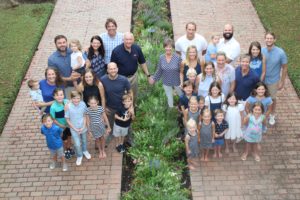 Administrative assistant to the president, Karen Francies, said, "Since beginning my time here many years ago, there has been a loving and caring spirit that exuded across the campus. I can remember when I was pregnant with my first child, I was surrounded by wonderful colleagues who prayed for us and were kind and attentive. Colleagues became friends and family and have practically watched my children grow up. Now, my son is in high school and my daughter has become a student here at HBU."
HBU's longest serving faculty member, Dr. Doris Warren, joined the University ranks in 1967. She has found a place in the hearts of students and colleagues past and present. Many look to Dr. Warren as a longtime family member. "We are a community here – of students, staff and faculty," she said. "I am really proud of that."
First Lady Sue Sloan, wife of HBU president, Robert. B. Sloan, said, "Home is where the heart is, and our hearts are here. We love HBU – the students, faculty, staff and friends of the University. Home is where you experience belonging and working together for a common goal. We are grateful to the Lord our God for bringing us to this place, HBU, our home, where we deem it an honor to live, study and work with the finest people anywhere."
Did you know the Legacy Scholarship provides generous funds for those with family ties to HBU? Learn more at HBU.edu/Admissions.