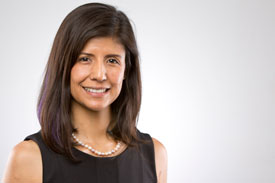 Cristina Nader, director of Student Support Services, led two workshops at the Southwest Association of Student Assistance Programs (SWASAP) Conference in Little Rock, Arkansas this month.
The first workshop was titled "Latinos in Higher Education." The goal was to build awareness about Latinos in higher education. The stated objective was to share resources that are helpful for serving Latinos in higher education including books and websites to research organizations and think tanks. Latinos have become the largest population of color in the United States and US higher education. According to the U.S. Census (2010), there are 50.5 million Latinos, which is the equivalent of 16% of the U.S. population. For the U.S. to regain the top ranking in the world for college degree attainment, Latinos will need to earn 6.1 million more degrees by 2020. She presented on the unique opportunities and challenges of serving this demographic of students. She also presented national figures and current research trends.
The second workshop was titled "Proven Success Strategies for Student Support Services Programs." TRIO SSS first became a program in 1968 with the Higher Education Amendments. The goal of SSS is to increase the college retention and graduation rates of its participants. While SSS has had 50 years of success nationally, some programs are as young as three years. Despite the newness to the world of higher education, TRIO SSS at HBU has proven that TRIO works by completing the 2016-2017 annual performance report with an 84% persistence rate and 98% academic good standing rate. From success coaching to personalized education plans to graduate school tours, she gave details and resources that have helped this program be successful. Participants of the workshop were able to compare their programs to HBU's and others' while sharing best practices for all to learn.
Both sessions were well attended with over 50 participants at each.