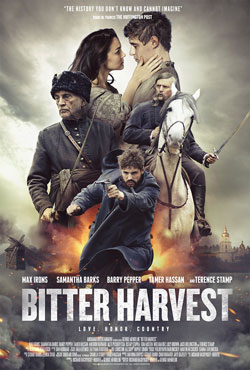 I have noticed over the years that the Hollywood studios don't release any major films on Oscar weekends; the weekend of February 25 was no exception, but I did find one new film of interest, Bitter Harvest.  The film deals with the persecution of Ukrainian farmers by the Russian Bolsheviks in the 1920s.  It was worth seeing, if no other reason than the photography.
I had great fun in a post-doctoral course on Russian history in 1973, so I knew enough of the story to state that the film is accurate, if not understated in its depiction of the horrors perpetrated by Stalin's thugs.  The film's release obviously coincides with rising concerns over current Russian moves in the Ukraine, but the propaganda is minimal.
I did not recognize most of the cast, but Terence Stamp is effective as an elderly warrior who reminds me of some of the characters in Taras Bulba.  One episode reminds me of the long train ride in Doctor Zhivago. The opening scenes of happy Kulaks during a harvest festival are reminiscent of many films such as 1943's The Happy Land and even Frankenstein.
Even though the film is rather derivative, I enjoyed it; however, I don't think it will be around long since there was only one other person in the audience.