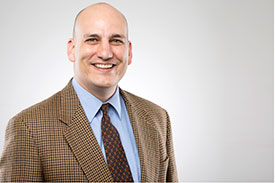 Dr. Ben C. Blackwell, assistant professor of Christianity and director of graduate theological programs, presented two papers at the joint annual meetings of the Institute of Biblical Research (IBR) and the Society of Biblical Literature (SBL) in late November.
Dr Blackwell was invited by IBR to present in their plenary session which had about 700 in attendance. His paper was 'The Coherence of Paul and his Patristic Interpreters: A response to Edith M. Humphrey's "Reclaiming all Paul's R's: Apostolic Atonement by Way of Some Eastern Fathers."' The SBL paper was in a session on Martin Luther as a biblical interpreter and was titled 'Luther and Galatians: Justification as Participation in the Life of God'.
Both of these papers will serve as part of a forthcoming book Dr. Blackwell is writing – Participating in the Righteousness of God: Justification in Pauline Theology (Eerdmans). This is a follow-up volume to his recently revised book Christosis: Engaging Paul's Soteriology with his Patristic Interpreters.