HBU Teams with Houston Texans owner, establishing the HBU McNair Center for Entrepreneurship and Free Enterprise
Honor the Lord with your wealth, and with the first fruits of your produce;" Proverbs 3:9 (ESV). Bob and Janice McNair exemplify this biblical guidance, and they are enabling Houston Baptist University to teach such truth to students.
The Robert and Janice McNair Foundation recently donated a $5 million gift to Houston Baptist University for the establishment of the HBU McNair Center for Entrepreneurship and Free Enterprise. President Robert B. Sloan believes entrepreneurial training will be rewarding for students at Houston Baptist University. "We are very confident that because of the kinds of commitments we have to HBU, because of our Christian history, because of our commitment to the founding principles of America and democracy—things like entrepreneurship—that we have a tremendously positive influence on our people."
The McNair Foundation's Executive Director, Cynthia Canevaro, told The Pillars, "Bob McNair uniquely understands how life changing it can be when the free enterprise system affords an eager entrepreneur the opportunity to start a business, create jobs and contribute to our nation's economic growth. Without question, the greatest wealth generator in the world for individuals and nations is the free enterprise system."
Robert and Janice McNair
Robert McNair is the chairman, CEO and owner of the Houston Texans NFL franchise. McNair is perhaps best known in the business community as the founder of Cogen Technologies, which became the largest privately-owned cogeneration company in the world, with aggregate capacity of 1,400 megawatts. In 1999, he sold the company while retaining ownership of power plants in New York and West Virginia.
Committed to bringing a National Football League team to Houston, McNair formed Houston NFL Holdings in 1998. In 1999, the NFL awarded him the 32nd NFL franchise, returning professional football to the city of Houston in 2002. McNair's influence and leadership has brought two Super Bowls to Houston's NRG Stadium: Super Bowl XXXVIII in 2004 and Super Bowl LI, which will be played at NRG stadium in February of 2017.
In 2011, McNair's Houston Texans won their first AFC South title. In 2012, they gave Houston its first NFL playoff game in nearly 18 years after a 31-10 win against Cincinnati in the Wild Card round on January 2012. The Texans then claimed their second consecutive AFC South title in 2012 and finished the regular season 12-4, matching the most regular-season wins in the city of Houston's NFL history. McNair hired Bill O'Brien as the third head coach of the franchise in January 2014, ushering in a new era of Texans football following a disappointing 2013 season. In 2015, the Texans reclaimed their AFC South Division Championship after summarily beating the Jacksonville Jaguars 30-6.
McNair's vast entrepreneurial empire includes ownership of The McNair Group where as Chairman, he oversees an investment portfolio that includes interests in two cogeneration plants in the eastern United States, Palmetto Partners, Ltd. and RCM Financial Services, L.P.; private investment entities that manage the McNairs' private and public equity investments.
A cancer survivor and Christian, Bob grew up in Forest City, North Carolina. He graduated from the University of South Carolina in Columbia, South Carolina, where he served as student body president and met his wife, Janice, a native South Carolinian who was attending nearby Columbia College. They have been blessed with four children, 15 grandchildren and two great-grandchildren.
A man with an enduring passion for entrepreneurism, Bob McNair was named Entrepreneur of the Decade by the Houston Technology Center, a 2013 Man of Distinction for benefitting medical research and treatment for children in the Texas Medical Center, and was awarded the James A. Baker III Prize for Excellence in Leadership by the James A. Baker Institute for Public Policy at Rice University. In 2015, he was named MD Anderson's "Living Legend."
In 2010, Bob was inducted into the South Carolina Athletic Hall of Fame and the Houston Hall of Fame. In 1997, Texas honored one of their own by inducting him into the Texas Business Hall of Fame. Baylor College of Medicine awarded him an honorary doctor of humanities, and the University of South Carolina awarded an honorary doctor of humane letters.
Bob and Janice McNair made Houston their home in 1960. Bob chairs The Robert and Janice McNair Foundation, the Houston Texans Foundation and the Robert and Janice McNair Educational Foundation located in Forest City, North Carolina. For more than 20 years, they have given generously to a wide array of charitable, scientific, literary, educational and religious organizations, including Houston Baptist University.
In 2007, the McNairs turned their philanthropic focus to medical research with a transformational gift to the Baylor College of Medicine in Houston, establishing the McNair Medical Institute funding the McNair Scholars Program. The program recruits world-class physicians/scientists in the fields of Type 1 diabetes,  breast and pancreatic cancer and the neurosciences. Additional McNair research scholars have been established at MD Anderson, The Menninger Clinic, Texas Children's Hospital and the Texas Heart Institute.
With their generosity, the McNairs have been and continue to be examples of good stewards. They recognize that God has blessed them and, in turn, they have blessed others.
The McNairs have been generous to Houston Baptist University for many years and as President Sloan noted, "All over the campus, there are marks of [their] generosity." McNair Hall in the Morris Cultural Arts Building, as well as the new McNair Plaza around Belin Tower are only two of the various projects that can be attributed to the Robert and Janice McNair Foundation.
The Center
In 2015, the McNairs began establishing McNair Centers for Entrepreneurism and Free Enterprise at colleges and universities across the United States. In 2016, they added the McNair Center for Entrepreneurship and Free Enterprise at Houston Baptist University.
The McNair Center at HBU is the Foundation's third Center locally and the sixth nationally. "We hope that over time these centers will come together and develop a national coalition of McNair Centers for Entrepreneurism and Free Enterprise," said Canevaro.
The McNair Center will offer a number of extracurricular programs and events for students. The Center will coordinate pitch contests, entrepreneurship lectures, and a variety of experiential learning events for undergraduate and graduate students.
The academic programs will be overseen by the Archie W. Dunham College of Business. Students from all majors will be able to apply and take classes in entrepreneurship. Dr. Michael Weeks, the Dean of the Archie W. Dunham College of Business, said, "We are excited to offer entrepreneurship programs for all students. The first graduate program, a master's degree in management and entrepreneurship, will be specifically for graduate students with non-business majors. We recognize that millennials have a strong interest in starting their own businesses. This inaugural graduate degree will let students from the arts, sciences, and other professional programs gain valuable knowledge about how to turn a passion into a life's work." Eventually, all undergraduate students will have the opportunity to minor in entrepreneurship, and graduate business students will be able to add an entrepreneurship concentration to their degree programs. The academic programs will provide a solid foundation and the skill set necessary for entrepreneurial business operation.
The academic program will also include a course on stewardship. "We have launched a new stewardship course this year as a cornerstone of our business curriculum. The course teaches students concepts of advanced ethics, corporate social responsibility, and sustainability in a Christian framework. This course will be taken by all of our undergraduate business students, and we expect it to be a key component of our entrepreneurship offerings," said Dr. Michael Weeks.
Christian business leaders from the Houston area are actively being recruited to serve as mentors to McNair Center students. The goal is to help equip students with the real-world skills they need to succeed. "We are very excited that several friends of the university have expressed support for the program," Dr. Simpson said.
Extracurricular programs for students will begin in January 2017, and degree programs will start in the fall semester of 2017, pending approval from HBU's academic accrediting agency, SACSCOC.
The McNair Center will be housed on the first floor of the Hinton Center and will report to the Office of the Provost. The Archie W. Dunham College of Business will oversee academic programming, including certifications and graduate degree programs.
The Director
Michael Player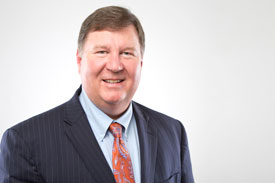 joined HBU as the administrative director of the McNair Center in August. Nearly 30 years ago, Player started and ran a full-service advertising agency in Kansas City, Missouri, and managed it for 28 years before selling it in 2015. He taught for 18 consecutive years at three universities: MidAmerican Nazarene University, the University of Missouri in Kansas City at the Regnier Institute for Global Entrepreneurship and Innovation within their Henry W. Bloch School of Management, and at Baker University. In 2012, Player designed, orchestrated and obtained the start-up funding to launch and market the Center for Entrepreneurial Leadership at MidAmerican Nazarene University where he served as assistant director. He is a Certified Entrepreneur Program Director from the Ewing Marion Kauffman Foundation FastTrac® programs. Player has helped launch many companies and started several of his own businesses. As an evangelical Christian, Player is excited to be working for a university with a Christian purpose. "God is the one who provides success and opportunity. Those are blessings. To be at a faith-based university is what I desired so that I could stay on point with that message," Player said.
When asked what quality truly defines the entrepreneur, Player answered, "It's a mindset. You may not realize you have it until you are pushed into a certain instance that it shines. It is about how you gauge risk and what your comfort level is. Are you born with it? No. I think you can train yourself to be cautious in the decisions you make and I think you should be prayerful in those decisions." Houston Baptist University will cultivate this entrepreneurial mindset within the Center by asking students, "Do you think like an owner?" The rhetorical question is a challenge not only to future entrepreneurs, but also to employees. "It doesn't matter if you are starting your own business or working for another company. If you have that owner mindset, you are probably going to advance in your career."
The Vision
At the official gift signing in President Sloan's home in August, Bob McNair explained his passion for entrepreneurship and for students. "Our young people these days need to understand what the economic world is all about, and they need to understand what are the systems that have been successful and what are the systems that have failed, and the free enterprise system has been the bulwark of prosperity. We need to give young people an opportunity to succeed, and a depth of understanding that will enable them to have greater vision and to raise their own horizons."
"Christ-like" is the term Michael Player used when he explained how Houston Baptist University will approach entrepreneurship. "As Christians, we are called to help other people. If you have an opportunity to start a business, why aren't you also planning to help people as you start that business?" Player's question strikes a chord. As many entrepreneurial centers simply teach people how to make money, this Center will be set apart as it trains future entrepreneurs to take the money God entrusts to them and use it to benefit their communities. "We need the mindset of helping other people from James 1:27 'helping widows and orphans.'"
The theme of the HBU McNair Center for Entrepreneurship and Free Enterprise is "Igniting your Vision with Purpose." Not only will students be taught how to make money and ways to push their businesses past that five-year mark, but they will be shown how starting and owning a business can be glorifying to God.