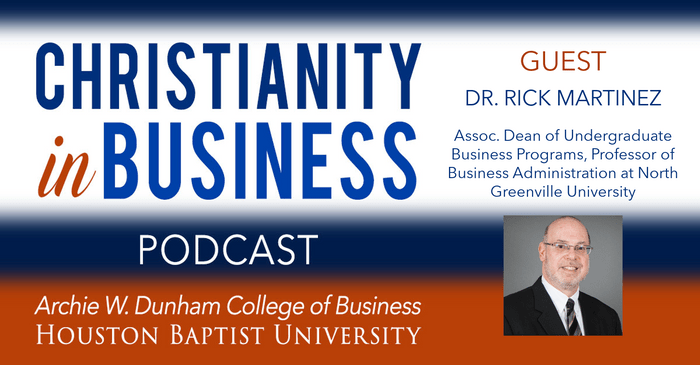 On this episode, Dr. Rick Martinez shares a biblical approach to innovation.
Questions and lessons explored in this episode:
How should we think about innovation from a biblical perspective?
Is there anything in Scripture to support the notion of constantly pushing the limits of technology?
How do we protect ourselves from revisiting the Tower of Babel in light of technological advancements?
How does the "ministry of reconciliation" function in the marketplace?
About the guest:
Dr. Rick Martinez is the Assoc. Dean of Undergraduate Business Programs and a Professor of Business Administration in the College of Business and Entrepreneurship at North Greenville University. Prior to coming to NGU, Dr. Martinez served in numerous faculty and administrative roles at Baylor University, Houston Baptist University, and Oklahoma Baptist University, as well as Assistant VP for Academic Affairs at Charleston Southern University.
He is published in numerous peer-reviewed journals, including Journal of Management, California Management Review, Journal of Business Research, Business Horizons, Journal of Biblical Integration in Business, Christian Scholars Review, Christian Business Review, Christian Business Academy Review, and others.
He is also a co-editor of the Christian Business Review.
He is the 2020 recipient of the Christian Business Faculty Association's Sharon Johnson Award for significant contributions in scholarship that integrates the Christian faith with business principles and practice.
Prior to his academic career, Dr. Martinez spent six years in the U.S. Navy operating nuclear power plants on surface ships.
Dr. Martinez has a B.S. in Political Science from Arizona State University, an M.B.A. in Management of Information Systems from Baylor University, and a Ph.D. in Management from Texas A&M.
Rick and his wife Peggy live in Greer and are by God's grace the blessed parents of three amazing young adult children, Mariah, Tyler, and Sierra.
Links mentioned in this episode: