Greetings from the Guild President
2020-2022 Guild President Judy Craig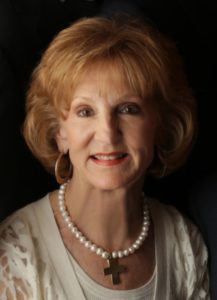 Dear Ladies of The Guild,
The Bible records that God's people were called, on many occasions, to reflect on their history so that they could recognize God's leadership and blessings in their lives. Often, this exercise resulted in hearts overflowing with thankfulness.
As I step into my second year as President of the HBU Guild, I am humbled and blessed as I reflect on the history of Houston Baptist University and The Guild, and my heart overflows with thankfulness at the work God has accomplished at this University and through the women of the Guild.
Specifically, I am thankful for ……
Dr. Stewart Morris, the University founder, and President Robert Sloan and his predecessors who have kept HBU true to its mission for more than 60 years, focusing on excellence in academics while incorporating Christian values and the message of Jesus Christ.
The dedicated Christian women who joined together in 1974, with a passion to support Christian education, to form the President's Advisors which was renamed The Guild in 1994. Also, I am blessed by the women who have participated since that time in supporting HBU and its students through The Guild Institute in Christian Family Studies and The Guild Graduate Scholarship Program. Since 1994, The Guild has contributed more than $2 million in financial support for scholarships to students pursuing advanced degrees in Education and Theology. What an amazing accomplishment!
You, our membership, who remained faithful in your commitment to The Guild and its mission this past year….and aren't we glad this is history! Our 2020-2021 year was challenged by the COVID 19 Pandemic which brought many of our events to a halt, and yet, you supported me with prayer and encouragement and our mission with prayer and giving. With God's leadership, we persevered and collected close to $80,000 for the scholarship program. This allowed us to award 27 annual scholarships and 2 endowed scholarships. In addition, our Guild Institute presented a gift of $20,000 to HBU for Continuous Infectious Microbial Reduction equipment used to ensure a safe environment for the students during the pandemic. Thank you, ladies, for a job well-done! Your accomplishments will be a cherished chapter in the history of HBU and The Guild throughout the years.
Now, as we enter the 2021-2022 year, it is our privilege and responsibility to continue The Guild's legacy of supporting Houston Baptist University, Dr. and Mrs. Sloan, HBU staff and faculty, and the students. Our mission is more important at this time in history than ever before as the campus continues to expand and the student body continues to grow. The Guild Calendar of Events offers you many opportunities to get involved and to introduce your friends to our organization where they can invest time and talents in transforming lives through their support of Christian education.
I pray that our scripture theme for this year, Matthew 5:16, will guide us as we serve together, sharing our passion for the University and Jesus Christ … "Let your light shine …."!
In His Love and Service,
Judy Craig