Installation Coffee
Ladies of the HBU Guild were overjoyed to be back together and attend The Guild's Installation Coffee on May 14, 2021 at the beautiful Belin Chapel in the Morris Cultural Arts Center. The Guild President, Judy Craig, welcomed the 2021-2022 Guild board. The event was co-chaired by Tommie Lejeune and Lynn Tyger.
Dr. David Kirkland, the Chairman of the Department of Music and Vocal Program Coordinator, together with the accompaniment of Dr.  Alina Klimaszewska, a faculty member from the Department of Music, began our program. We were greatly blessed as they performed "dal labbro il canto estasiato," a lovely Italian aria by Verdi from his opera Falstaff.
Judy Craig welcomed Kathy Lee as our guest speaker who conducted the very inspiring Installation Ceremony for the incoming officers. Our returning President presented her new board with an adorable flashlight to help our lights shine our love for Christ and HBU.
Judy's scripture for The Guild this year is "In the same way, let your light shine before others, that they may see your good deeds and glorify your Father in heaven." Matthew 5:16.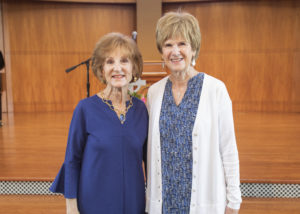 Judy Craig and Guest Speaker, Kathy Lee