Hi, my name is Nick Khripunov and I am a freshman at Houston Baptist University. Some interesting facts about myself; I was born in Uzbekistan and speak Russian fluently, I have two twin brothers which means I'm a triplet so yes my childhood was really something. I pride myself on being a warrior of God's almighty kingdom. Something I live my life by I get from Matthew 29:19- Therefore, go and make disciples of all nations, baptizing them in the name of the Father and the Son and the Holy Spirit.
I came to HBU after I received a scholarship for finishing high school as the salutatorian. I live in Houston with my 2 cousins, where we work together running a ministry we started when we were just fifteen years old. We are all certified and licensed soccer coaches where we use that to now run a non-profit organization. We coach soccer to the underprivileged youth of Houston free of charge, started a league for them in which they can play and develop themselves both in soccer and through their relationship with God. We implement Jesus Christ and his word into our practices and try to teach these kids and provide to them in any way we can. This has been our passion and we pride ourselves through it because by doing this we inevitably carry out the plan that God has for us.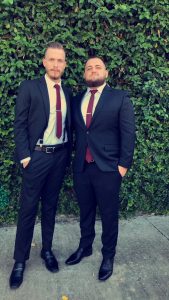 If I was to give some advice to incoming freshman at this University, I would advise that people try to meet new friends and make great lasting relationships. From what I learned throughout my life is the importance of having noble friends in your life, especially in college. Friends that will support you no matter what, keep you accountable both for yourself and in school and most importantly to have friends that will make your college experience all the more exciting and worth while. I believe that with God anything is possible, no matter how hard your life may seem or what you may be going through, with Him by your side there's nothing that can go wrong. If you carry this mindset throughout your college experience you will be rewarded with all the success and achieve far more than you could ever imagine.