A Note from HBU President Robert B. Sloan, Jr.
Named as a reference to HBU's spiritual location within Augustine of Hippo's De civitate Dei and for our physical presence in a great American metropolis, The City features the writings of leading Christian voices in the academy and out of it, including thoughtful pieces by several members of the HBU family.
This is an exciting time for HBU. Following a comprehensive envisioning process, our university is entering a period of transformation and expansion, built on a faithful understanding of the liberal arts and our aspirations to become a national university.
The concept of the university has deep roots in the church. Christian scholarship is as old as the faith – yet despite the ancient relationship between the church and the university, the past two centuries have seen the two grow ever further apart. Today, few universities embrace the idea that faith and reason are partners in the quest for truth. If you visit the great institutions of the past, you will find them dominated by moral relativism and secularism – the grand old buildings may still have the Word of God engraved on their walls, but it has faded with time, and no longer represents the beliefs of those inside.
At HBU, we believe a great university does not leave students to be swept to and fro by the fickle winds of the world. It does not merely place tools in the hands of the next generation to serve the needs of the day. It equips them with something more meaningful. It gives them a place to stand when a great storm comes, and it guides them past the fleeting, and toward the everlasting.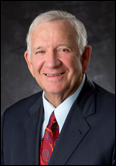 This is the purpose of HBU, and of The City. We invite you to read and enjoy.
Blessings,
Dr. Robert B. Sloan. Jr.