2022 Molly Howard-Gerwig Charity Volleyball-Beach Golf Tournament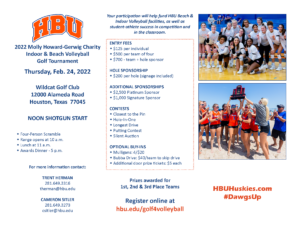 The 2022 Molly Howard-Gerwig Charity Golf Tournament will take place on Thursday, February 24, 2022 at Wildcat Golf Club in Houston, TX. Funds generated from this event will go toward supporting the HBU Indoor and Beach Volleyball facilities, as well as student-athlete success in competition and in the classroom.
This fundraiser is held in memory of Molly Howard-Gerwig, former HBU Volleyball Assistant Coach, who is beloved and remembered by the HBU athletics department.