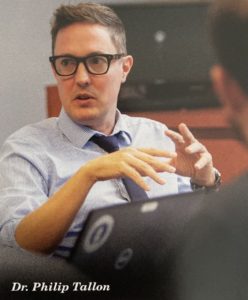 Preparations are underway for the launch of a new Doctor of Ministry (DMin) program at Houston Baptist University (HBU). Championed by two long-time faculty members, Dr. Philip Tallon, Dean of the School of Christian Thought, and Dr. Benjamin C. Blackwell, Director of HBU's Houston Theological Seminary (HTS), HBU's new DMin program is set to launch in the Fall of 2022 to provide a Kingdom-focused experience where leaders participate in a community of learning to gain specialist expertise and to be formed spiritually.
The program will be the fourth doctoral program offered by HBU, which will move the University to Degree Level VI, the highest degree level available for research universities under the Southern Association of Colleges and Schools Commission on Colleges, shared Dr. Blackwell, who will serve as director of the new doctoral program.
Not only will this program influence the life of the seminary, but it will help the wider HBU community foster a research environment where the Christian faith is recognized as the foundation for all academic pursuits, shared Dr. Blackwell.
DMin degree candidates will embark on a 3-year journey of intense biblical study, traveling to the HBU campus one week each semester for residential study and also joining research seminars virtually twice a month via synchronous video. The program is founded on HBU's core conviction that the whole Bible coherently speaks to God's redemptive work in the world. This climaxes in Jesus as the Messiah-King establishing the Kingdom of God in the power of the Spirit. Working from that central foundation students will explore the nature of God's redemptive work through one of two tracks—New Testament and Faith & Culture.
"These tracks build on our distinctive strengths in both areas since we have one of the largest New Testament faculties and also one of the largest Apologetics faculties in the US," said Blackwell.
Dr. Tallon has led HTS's Apologetics program since he joined HBU as a faculty member, and Dr. Blackwell has served as director of HTS since its founding. Both have provided years of investment in HBU's students and will serve as key faculty in the program. The new doctoral program will benefit from Dr. Tallon's expertise in the intersection of theology, culture and the arts and Dr. Blackwell's focus on the application of the New Testament in different cultures through time.
The DMin program will also draw from the breadth and depth of all HBU faculty, particularly those with expertise in New Testament and Apologetics. Dr. Craig Evans, the John Bisango Distinguished Professor of Christian Origins, brings a lifetime of study of the NT in its historical context with distinct expertise in Jesus' Jewish context, such as that evidenced in the Dead Sea Scrolls. In Apologetics, Dr. Michael Ward likewise represents the best of contemporary scholarship on C.S. Lewis and his approach to how theology engages the modern world.
At the heart of the new doctoral program is a support system for Christian leaders who are guiding the church in increasingly complex times. The aim is to provide doctoral degree candidates with ready access to a peer community designed to serve as a sounding board for ideas and also a source of challenge and consolation in difficult times.
"As we support leaders within their Kingdom pursuits, we want to be a place of healing, encouragement, and strengthening so they can supernaturally pursue their calling. We intentionally intermix leaders within both tracks—NT and Faith & Culture—so they can mutually benefit one another," said Dr. Blackwell. Students will have a ready community that encourages them to be more solidly grounded in the truth of Scripture and, at the same time, help them to discern how to lead the church through cultural challenges to fulfill HTS's mission to ground leaders in biblical truth, form them to have a beautiful faith, and prepare them for a flourishing ministry.
A distinct aspect of the program will be its intentional focus on developing thought leaders who are great practitioners.
"DMin programs usually focus on helping leaders become better practitioners, and we want to continue in that tradition. We, however, recognize that the church needs leaders who are not just focused on specific ministry settings. There has too long been a divide between PhD programs focused on the conceptual underpinnings of theology and culture and DMin programs focused on the practical implementation in a particular setting," said Dr. Blackwell.
As Director of HBU's DMin Program, Dr. Blackwell's goal is to support those who want to bridge the concept-practice divide as the program helps practitioners to become thought leaders.
"This wider vision means that our program will not just benefit local churches and ministries, but "the Church" as she navigates the wider world. The church needs visionary leaders who can speak to our most pressing challenges that arise from wider cultural movements. As a result, we want to engage pastoral leaders as well as those in less traditional ministries because we know the church needs thoughtful and grounded leaders in many areas of life," he shared.
Dr. Blackwell believes that the bridge between theology and practice should be at the heart of the purpose of any seminary, an integration that he embraces at HTS. He is excited about the opportunities that the DMin program will represent for the wider seminary community because this will more fully integrate the churches and ministries into the life of the seminary.
As with medical schools that demand both academic engagement at the highest level and excellence in the practice of this knowledge, Blackwell wants to bring both aspects together.
"Having these Christian leaders in our wider community will allow us to integrate academic study with the practice of ministry more fully, particularly with use of case studies for those studying for future ministry," he shared.
"Houston is a wonderfully diverse city, and it is often described as a harbinger of American culture in the next 50 years as the rest of the U.S. experiences increasing ethnic and social diversity. As Houston's Seminary, we want our programs to reflect that trendsetting nature. We want our programs to be nationally recognized for setting out the vision for integrated training. That is, we strive to be a community that integrates academic excellence with the practice of faith and ministry, such that our students are holistically formed into the image of Christ— not just intellectually (head), but also loving God (heart) and loving others (hands)," shared Dr. Blackwell.
Blackwell believes that HBU's new doctoral program will be successful to the extent that Christian leaders are faithfully serving the Kingdom of God in a wide variety of areas according to their spiritual gifting. Not only that, he believes that they need to be visionary leaders who expertly understand and communicate how Christians can embody the biblical narrative in this complex world. In this way, leaders will be formed in such a way that they can stand up in the midst of challenges internal and external, adds Blackwell.
"For instance, the church is facing a coming crisis among leaders because longevity in ministry seems harder and harder to attain. We want to embed leaders in healthy peer communities so they can sustain through the challenges of ministry. In that way that ministers struggle to sustain their ministry, the Church often struggles to maintain its commitment to truth and holiness. We not only want to encourage leaders but also the Church itself through visionary leaders committed to biblical truth," he said.
Cultural changes present challenges for ministry, but also opportunities said Dr. Blackwell, who envisions opportunities to interact with the global church in new ways.
"Our goal is that the DMin program would provide for students to engage global opportunities, not least in our planned trips to Israel, but also engaging international ministries. We also look forward to those ministering internationally to come and study at HBU, thus expanding the HBU influence more widely," said the HBU DMin Program Director.
---
Doctor of Ministry Scholarships Honoring Colonel Newt Cole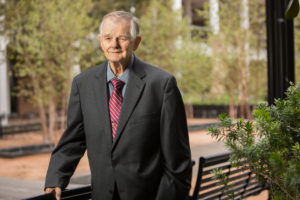 "We are very pleased that the new Doctor of Ministry Program (DMin) has garnered the support of friends of HBU. Jerry & Kay Cox created an endowed scholarship in honor of Colonel Newt V. Cole, a friend of the University who passed away this year. Col. Cole was a retired Air Force Chaplain with a lifetime of faithful ministry. Before he passed, Col. Cole also made a very generous gift to support DMin students and an extremely generous estate gift that will carry on his legacy of service and love for the ministry. We are thankful to both parties for their commitment to helping refresh and support working ministers."
---
Program Distinctives
Study Hard with the Experts
Our program, with tracks in New Testament and Faith & Culture, immerses you in subjects with leading experts who actively publish in our fields. Study with faculty like Craig Evans and Ben Blackwell in New Testament and Michael Ward and Philip Tallon in Faith & Culture.
Grow through Community.
We intentionally foster personal connection through our courses, and the residentials include worship, prayer, and spiritual direction.
Be Inspired by Fresh Experiences
Our Doctor of Ministry program is designed to facilitate encounters with leaders and organizations engaging culture with the truth of the Gospel.
Core Program Structure
The core doctoral program (30 hours) can be completed in as few as three years. Most courses are semester-long and hybrid in format, focused on one-week residential intensives here in Houston. Some students may require leveling work before starting doctoral classes.
Scholarships
Church/Org-matching Scholarship •Program Scholarship – based on strength of the application
Alumni Scholarship – for any HBU/ HTS alumni
For more information, see HBU.edu/dmin, email bblackwell@HBU.edu or call 281-649-3419.