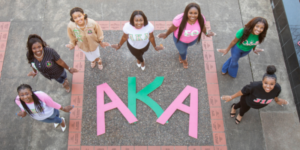 When Jessica Ikoya came to HBU, she wanted to become involved. As a commuter student, she went out of her way to find her niche on campus. She joined the African Student Association, was a manager for the Elite Dance Team, and joined Order of Omega and Alpha Kappa Alpha Sorority, Incorporated. "I've always had a good way of balancing my time; I know how to plan my classes," she said.
Ikoya majors in legal studies and psychology and is a student worker in the Graduate Admissions Office. Although becoming involved as a student was never a requirement, it was always a goal for Ikoya, and something in which she saw great value.
In January 2020, Ikoya was named president of the HBU chapter of Alpha Kappa Alpha, a traditionally African-American sorority that emphasizes service, scholarship, and sisterhood. She's overseen multiple projects including meal and clothing drives and distributions.
"A favorite activity was during Thanksgiving when we made boxes and went to houses and knocked on doors," Ikoya remembers. "The faces and emotions of the recipients were priceless. I never really saw myself becoming president but I'm glad I grew into it. It gave me more skills like being able to talk in front of people and reaching out to people. I have to get in contact with speakers, to learn how to plan more, get acquainted with people on campus, and make business decisions. It made me step up more. It takes work to make events happen.
It's taught me to talk to people; engage, remember names and faces – you might need them and they might need you."
For other students who are contemplating activities on campus, Ikoya encourages them to dive in. "Some people are intimidated when they see all the organizations at the Student Org. Fair, but everyone's very welcoming," she said. "Go to whatever piques your interest."
Even as she has given of herself, Ikoya has gained much in return. "There were times where I felt like maybe I can't do this – I don't know if this is for me, but I have to push myself because I know what I'm capable of and I have to believe in myself and know I can do it. It takes a lot of inner strength and prayer to keep going in the process," she said. "It's been great to develop my people skills, my presentation, and confidence getting in front of people. Being part of something like this is an overwhelmingly good feeling."