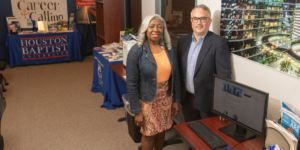 Graduation is an exciting time for students, but it can also bring about anxiety as young men and women contemplate what's next. Thankfully, there is a bridge at HBU that assists freshmen through alumni in their vocational journeys.
An HBU education serves as a launching pad for students as they prepare for job roles and graduate school. The HBU Office of Career and Calling is key for connecting students to the next steps in their journeys. In the office, students meet with the friendly faces of Aaron Swarts, Director, and Debra Bell, Assistant Director. True to the department's name, they help direct students and alumni toward confidence in themselves and in their callings.
The office offers online workshops, classes, panels, conferences, mock interview practice, resume-writing help, and more. Partnerships with Dress for Success and Career Gear help ensure students look and feel their best for every opportunity. While many business operations have changed post-pandemic, internships and jobs are still available.
Swarts and Bell have implemented Handshake, an online resource that hosts virtual career fairs with employers, a job searching function, appointment-setting, and resume feedback. They help students and alumni put their best foot forward through LinkedIn and via each networking opportunity.
Although students still meet with Swarts and Bell in person, they have often met virtually during the past year. They have helped students adapt to the changing job-search environment as well.
"For many years, I've said the core of what we do is 'connecting students with employers.' So instead of in-person networking or luncheons, we've had to pivot to a much more virtual approach," Swarts said. "The silver lining is that the new tools we're using are not going away, so we will continue to serve residential and online students, as well as alumni, using multiple methods."
The main message he conveys is that his office is ready to help. "Just like HBU students, we have continued to learn and grow in our roles in Career and Calling, and we always want to strive for new ways to connect with students. One initiative that we're continually improving upon is the idea of 'Career Services On Demand' – meaning we are here for students, but we also have added many of our resources online to access anytime. We love meeting with students and alumni, helping them navigate their time in and after college, and even helping them 'discover their calling'" Swarts said. "We look forward to serving students and alumni by connecting them with employers, whether that be in a virtual chat room or in McNair Hall!"
Visit HBU.edu/Careerandcalling for more information.