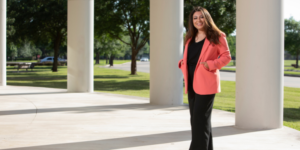 I graduated from HBU with a bachelor's degree in Medical Humanities. I was born and raised in the Houston area and graduated from L.V. Hightower High School, located in Missouri City. My early dream was to become a doctor. When I was looking for a college, I remember my main priority was finding a school that provided me with great support and encouraged my faith. I felt and still feel that the Lord should be present in everything I do, which is why HBU was the perfect school for me. It also came with the benefit of being close to home and it being a small community. HBU also had a great biology program, which is the major I started off during my freshman year of college. During that time, I realized that my calling was not to be a doctor, but I felt that the Lord needed me elsewhere. After praying about what I needed to do and what path to take, along came Medical Humanities. It was a new major during my sophomore year, and I became one of the first students to select it as my degree.
During my time at HBU, I worked as a resident assistant and in the Bradshaw Fitness center. My two jobs opened many doors for me that guided me to where I am now. I was able to participate as a TRIO student, allowing me to have the strong academic support that I needed at the time. Without the support of my professors, advisors, and success coaches at HBU, I can honestly say that I may not have been able to get through the hurdle of an undergraduate degree. My TRIO academic advisor guided me through job interviews, resume edits, and graduate school research. He was able to fully prepare me for my future outside of HBU. All the professors I had during this time also guided me into the direction that I needed to follow and always provided me with feedback to help me succeed.
After going with HBU Career and Calling to the Children's Assessment Center to tour around and learn about their services, I was able to find a job there after I graduated. I worked for the CAC for a year until I realized that my calling was to become a clinical social worker. I attended the University of Houston and earned my Master of Social Work (MSW). I intern at Texas Children's Hospital Meyer Center for Developmental Pediatrics and Autism Center.
My parents have been my biggest supporters, along with my two sisters. Success to me means being able to give my parents back everything they gave me and listening to the Lord. I believed I had a set plan for my life when I started HBU, but little did I know that God had something else in store for me. I can look back through all the trials and tribulations I went through and know that I overcame everything. I can genuinely say the Lord guided me to where I needed to be in life, which is where I am now.