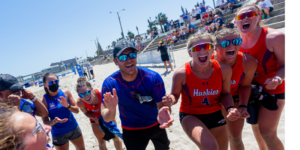 HBU came out of the loser's bracket and upset No. 1-seed Texas A&M-Corpus Christi in the final match, 3-1, to capture the first-ever Southland Conference Beach Volleyball Championship on April 25 at the Islander Courts at The Water's Edge in Corpus Christi.
The second-seeded Huskies jumped out of the gate, winning the first set in four of the five matches. The No. 4 pair of Lauren Huggins and Alison Stanfill edged Rachel Young and Brooke Adkisson, 25-23, then Danielle Okeke and Natalie Bennett won at the No. 3 spot, 21-18. Emily Ramirez and Taylor Horsfall kept the Islanders alive, winning, 21-16, 21-13 at two. In the number one match, HBU's Brennan Miller and Maddie Butters outlasted Giuliana Corrales and Brooke Pertuit in three sets, taking the third, 15-12.
HBU reached the championship by eliminating third-seeded Stephen F. Austin, 3-2, in the final of the loser's bracket earlier that day. The Ladyjacks had defeated the Huskies Friday to send them to the loser's bracket. HBU then defeated No. 5 New Orleans and No. 4 Central Arkansas Saturday to set up the rematch with SFA.
Huggins and Stanfill were named the Pair of the Tournament, then went on to claim Southland Conference Pair of the Year and first-team all-conference honors. Stanfill was also voted Freshman of the Year. Bennett and Okeke were also first-team all-conference selections and Head Coach Cameron Sitler earned Coach of the Year.
Photo Credits: Juan DeLeon Creative