HBU Endowed Scholarship Donors Leave Legacy Through Lives of Students
University Founding Father, Dr. Stewart Morris, Sr., donated the first endowed scholarship in 1969. His legacy paved the way for more than 240 HBU endowed scholarships today. The scholarships are established in honor of family, alumni, friends, churches and others. For the 2019-2020 school year, HBU awarded more than $1.6 million to students from this distinctive program. The trajectory of lives are forever changed through the generosity of others. Financial aid is a critical component of each student's ability to attend HBU and complete their degrees.
Learn more at HBU.edu/Endowedscholarship.
The Guild Endowed Scholarship Recipient Emely Benitez '19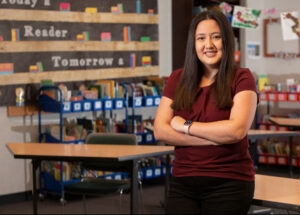 I graduated in spring 2019 with a bachelor's degree in bilingual elementary education. I teach in Galena Park ISD at Woodland Acres Elementary where I'm a Spanish, two-way immersion dual language third-grade teacher.
One of my own philosophies as an educator is to always give the best quality of instruction to every child I encounter. A goal of mine has always been to pursue a Master of Education degree, and I've been given the opportunity to make that dream a reality.
Because of my close relationships during my undergraduate years and the dedicated professors in the HBU College of Education and Behavioral Sciences, I was encouraged to come back to HBU for my graduate degree. I received the Dawn K. Wilson Endowed Scholarship. (Dr. Wilson passed away in 2019 following a courageous battle with cancer. The scholarship was established in her honor by The Guild. The Guild has awarded 60 endowed scholarships to students pursuing advanced degrees in education or theology.)
It is an honor to receive a scholarship named after one of my own professors as an undergraduate. Something about Dr. Wilson that I always enjoyed was that she would start classes with a devotional. She was always so strong in her faith even in the midst of her own health issues. She encouraged us as future educators even when I'm sure there were some hard days in dealing with her health. It was inspiring for future educators and gave us an example to do our own best every day.
This scholarship has made a difference in my life. I'm currently obtaining a Master of Education in Reading with a Reading Specialist Certification. I plan to graduate in 2022. My plans after I graduate are to work in a classroom until the perfect opportunity comes to work as a bilingual reading specialist, and hopefully move forward into a doctoral program.