Across six decades of history, Houston Baptist University has had only had three presidents, Dr. William H. Hinton, Dr. Edward D. Hodo, and Dr. Robert B. Sloan. Each of them have brought distinct leadership styles and have guided the University through times of change, growth and advancement.
Dr. William H. Hinton, President: 1962-1987, Chancellor: 1987-1991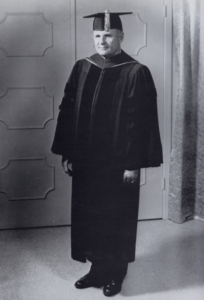 When Dr. William Harwood Hinton was appointed as the president of then-Houston Baptist College in 1962, John F. Kennedy was the president of the United States, and what is now a bustling Highway 59 adjacent to the campus was only a future plan. As founding president, Dr. Hinton had the unique task of overseeing the establishment of academic programs and traditions that would form the institution for years to come.
With a dedicated board, faculty and staff, Dr. Hinton envisioned what the 200 empty acres could be. During the following 25 years, HBC morphed into HBU, a distinguished university in an international city with about 2,600 students.
Dr. Edward D. Hodo, President 1987-2006, President Emeritus 2006-2016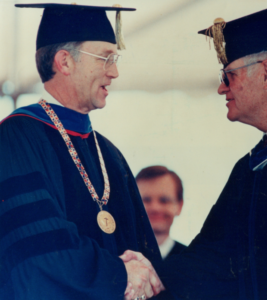 Dr. Edward D. "Doug" Hodo, the second president of HBU, served as a University leader for almost 20 years. During his tenure, the school's physical plant was expanded with the important additions of the Hinton Center, the Baugh Residential Restaurant, the Husky Village Apartments and the Glasscock Center. Additionally, construction began on the Morris Cultural Arts Center.
HBU's influential presence in the city of Houston, and its emphasis on faith, continued to be hallmarks of the institution.
Dr. Hodo emphasized a strong financial standing, seeing the school's endowment increase under his leadership.
Dr. Robert B. Sloan, University President: 2006-Present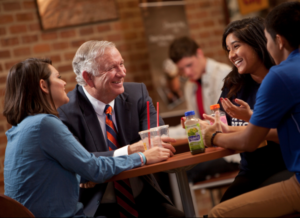 Dr. Robert Bryan Sloan assumed leadership of HBU in September 2006. Since that time, University enrollment has grown by nearly 2,000 students. Dr. Sloan is known for his role in facilitating The Ten Pillars Vision, a guide that has served to grow the institution academically and in strategic areas for the last dozen years. During his presidency, the University has improved physical building assets and added important new ones including the Morris Cultural Arts Center, the Hodo Residence College and Belin Tower.
HBU returned to Division I athletic competition and expanded athletic programs. The school became a comprehensive university with the addition of three doctoral degree offerings. The University launched the Pampell Online Division in 2017, enabling more learners to benefit from HBU's unparalleled education.