HBU Faculty/Student Ratio: 14-to-1
From the earliest days of HBU history, the University has drawn professors who are not only academically distinguished and accomplished in their fields, but are known for their care for students. HBU professors are professionals, scholars, authors and artists in their own right who share their expertise to educate and mentor HBU students. Their dedication to the Christian faith is just as important as their subject-area expertise.
Rita Tauer, Associate Provost for Academic Operations, said it is particularly notable how HBU professors incorporate faith in learning. "We have a broad spectrum of Christian faith traditions represented. Our professors have managed to integrate faith into their classrooms across disciplines," she said. "They have to have a love for students too; they get to know our students and it makes a big difference."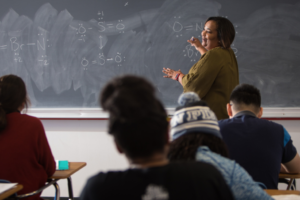 The University goes through a thorough process to select professors who are the best fit for HBU. "When we're interviewing faculty, we ask them the hard questions up front," Tauer said. "We want somebody who is prepared to be accountable."
HBU Director of Assessment and Compliance, Lisa Covington, said, "We aren't just trying to send students out who love Jesus and we aren't just trying to send out students into the world who are excellent in their field. We have to have faculty who are capable of being that themselves. They are excellent in their field and love the Lord."
Adjunct professors play an important role as well, Covington said. "Not many private institutions are located in a large metropolitan area. We're able to bring in professionally qualified adjuncts who bring such depth of experience," she said.
Dr. Craig Evans is known beyond academia for his work as a New Testament scholar. He teaches in the Master of Divinity Program offered through HBU's Houston Theological Seminary program. Dr. Evans has written hundreds of articles, and published more than 80 books. He's appeared in and contributed to about 100 documentaries and news programs, which have reached millions of viewers. One of the most well-known television projects in which he participated is "The Bible" miniseries.
"I make available to our students the opportunity to study in Israel, participate in archaeological excavations, and view and study ancient manuscripts," Evans said. "HBU faculty are accomplished scholars and contributors to their respective fields of study; many are internationally recognized."
Dr. Rhonda Furr, Professor of Music and University Organist, is known for her love for students and her broad musical expertise. "One of HBU's greatest qualities is a faculty that cares about each individual student," she said. "Teaching is relational! I have devoted my life to learning how to effectively engage students in their journey of growth, learning, and creating. In the final analysis, I ask myself if I have helped each student to make the most of their God-given talents and opportunities. My highest honor is their success."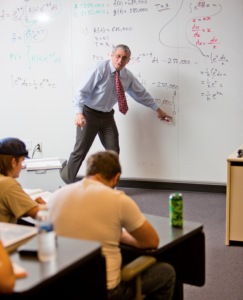 Small class sizes allow professors to better reach and connect with students, Dr. Taiya Fabre, Associate Dean for Undergraduate Studies in the College of Science and Engineering, said. "The family atmosphere of HBU is one of its biggest assets. The faculty not only mentor students but other faculty as well, which enhances the HBU experience," she said. "I look for professors who are excited about the mission and vision of HBU and who will serve as role models to students. This allows students to obtain, not only a great education, but a reaffirmation of – and sometimes first-time exposure to – the Christian faith."
Dr. Greggory Keiffer '96 MBA '97, returned to HBU to teach after two decades in the corporate world. He is the Interim Dean for the Archie W. Dunham College of Business. He and many other professors bring business acumen to the classroom.
"That experience enables me to present our academic business concepts in multiple lenses with tangible connections to the 'real world,'" he said.
Biology Professor, Dr. Jackie Peltier Horn, said professors' professional connections benefit their students. "I was trained in the Texas Medical Center and was a predoctoral fellow at MD Anderson Cancer Center; I continue to nurture these relationships. I have served as president of the MD Anderson UT Health Graduate School of Biomedical Sciences Alumni group," she said. "I serve on career panels, speaking to the graduate students about teaching as a profession. This also gives me an opportunity to discuss our students with the graduate school dean and work to find opportunities for them. It also reminds the graduate school that we are a place to find good students. Our students have the opportunity to know the faculty as people who care about them and their life goals. We pray for them, celebrate their accomplishments, and encourage them to use their gifts from God."
A leader, author and ministry founder in the field of Christian apologetics, Assistant Professor Mary Jo Sharp brings unique insights to students. Learning at HBU has benefits that last long after a student graduates, she says.
"We greatly value collegiality and community in our programs, alongside the excellence of the learning content," Sharp said. "Students don't just graduate with a degree, but are invited into a lifelong community of learning together with their professors and fellow classmates. As a result, we've seen collaborative projects in the public marketplace of ideas come out of this unique HBU community."
Dr. Jeff Green, HBU Graduate School Dean, said Christian principles and broad opportunities for study are part of HBU's winning formula. "An HBU education is special because we robustly integrate faith in our curriculum," he said. "Additionally, our curriculum is comprehensive. For example, in the Graduate School, we have programs in nursing, fine arts, business, ministry, philosophy, education, counseling and many others."
While many aspects of HBU draw students, it's often the professors who make the difference, said Dr. Kristie Cerling, Associate Dean for the College of Education and Behavioral Sciences. "Professors sacrifice personal time to follow up and to work with students. As I walk across campus, I see professors meeting one-on-one with students – sometimes they are discussing academics, sometimes a new game that came out, and sometimes a spiritual matter," she said. "A student recently shared that a professor offered prayer and problem-solving help during a difficult time in the student's life. The student told me she transferred to HBU for the excellent academics and the personal care that professors display. Professors are committed to the growth of learners, and I know students are given every opportunity to succeed at HBU."
The Piper Professor Program honors outstanding Texas faculty members who are known for their teaching abilities, their subject-matter expertise, service, and their scholarship. There are 10 awardees in the state of Texas annually. HBU professors have been among the top 10 educators in the state seven times!
HBU Piper Professor Foundation Honorees:
2020: Levon Hayrapetyan
2008: Linda Brupbacher
1991: Doris Warren
1982: Marion Webb
1976: Marilyn Sibley
1972: Joyce Fan
1970: Calvin Huckabay