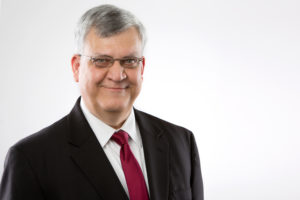 Dr. Robert Sloan, President of Houston Baptist University, is pleased to announce the appointment of Dr. Stanley Napper to the position of HBU Provost and Vice President for Academic Affairs.
"I am thrilled that Stan Napper has agreed to serve HBU as Provost and Vice President for Academic Affairs," Dr. Sloan said. "Dr. Napper brings years of academic achievement as a scholar, teacher and administrator to this role. The University will benefit greatly from his experienced leadership, faithful commitment and collegial manner."
Dr. Napper recently served as the Dean of the College of Science and Engineering (COSE), and in 2020, as the HBU Interim Provost. Dr. Napper served on the faculty and administration of Louisiana Tech University for 33 years before joining HBU in 2017 to establish engineering programs.
"I am honored and amazed that President Sloan and the Provost Search Committee would collectively and enthusiastically ask me to serve in this role. I trust that God has prepared me for the job, called me to the job, and will enable me to fulfill it with His wisdom and providence," Dr. Napper said. "The support, the hope and the source of my life is found in the Word of God (Holy Bible) and in my personal relationship with my Lord and Savior, Jesus Christ. My desire is to represent Him well and to demonstrate His love and all the fruits of the Holy Spirit."
Dr. Lesli Fridge, Director of Graduate Studies in Education and Co-chair of the Provost Search Committee, said, "Dr. Napper is an excellent choice to be the next Provost of HBU. I have gotten to know him over the last eight months working on the Husky Strong Task Force and have been impressed with his 'take charge' approach to being an interim. He is intelligent, sees big pictures, is inquisitive, takes initiative, is transparent, cares for the success and climate of this University, has a sense of humor, and most importantly, is a man of God."
Vice President for Enrollment Management and Co-chair of the Provost Search Committee, Dr. James Steen, said, "After numerous interviews and four forums with faculty, staff and students, it was very clear to the Provost Search Committee that Dr. Napper was the best candidate for the position. We were happy to make a unanimous recommendation to the president for Dr. Napper to assume this critical role as the Chief Academic Officer for HBU."
Ron Harrell, Chairman Emeritus of Ryder Scott, a global petroleum industry consulting firm, and Vice-chair of the HBU Science and Engineering Advisory Board, said, "I am not at all surprised by this promotion given the passion he holds for HBU, its students, its mission, and its leadership, faculty and staff. I have witnessed how Stan has demonstrated his God-given leadership abilities over time at Louisiana Tech, and more recently, at HBU."
Louisiana Tech President, Dr. Les Guice, said, "Having worked beside Stan for many years, I know that he will have a transformative impact as Provost of HBU. He is highly innovative and uses his creative talents and leadership skills to build programs that align with the mission of the institution, capitalize upon the strengths of the faculty, and serve the needs of the students. Stan has great compassion for others, is selfless, and always puts God first in his life. I am confident that he will be a great Provost and thrilled that President Sloan has given him this wonderful opportunity."
Dr. Napper served on the faculty and leadership of Louisiana Tech University for more than three decades. After receiving both BS and PhD degrees in biomedical engineering from Louisiana Tech, he remained at his alma mater, rising through the academic ranks, and serving administratively at chair, associate dean, dean, and vice president-levels. His final position there was Vice President for Research and Development. Dr. Napper was active in teaching, research, administration, and various professional organizations. He was elected as a Fellow of the American Institute of Medical and Biological Engineering.
Three years ago, Dr. Napper joined HBU to serve as the Founding Dean of HBU's former College of Engineering, which launched cyber engineering, electrical engineering and computer science degree programs in 2018. The University combined the former College of Science and Mathematics (COSM) with the former College of Engineering (COE) in 2019 to form the College of Science and Engineering (COSE). Dr. Napper led the College, serving students in all STEM programs synergistically and effectively.
Stan and his wife, Vicki, have been married for 40 years. They have eight children and four grandsons.