The Curmudgeon is rarely at a loss for words, particularly sarcastic words, but the untimely death of Chadwick Boseman from colon cancer left him reeling. Boseman's brief life has had an impact far beyond anything we can yet realize.
I first became aware of his abilities when I saw in "42" and "Marshall" and was deeply impressed. I am not familiar with the film about James Brown, but others speak highly of it. I need go back and watch the first two films closely.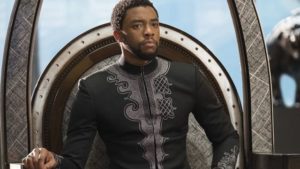 Boseman's biggest impact, of course, came with four films set in Marvel's comic book universe; the Black Panther first appeared in "Captain America: Civil War," and then in his own  film; the social and economic repercussions of "Black Panther" will continue for some time to come. The character also played a pivotal role in the last two "Avengers" films.
The true drama, we now know, was Boseman's successful struggle to conceal the pain from his cancer. I am also struck by Boseman's work with young children struggling with cancer; that was never publicized and shows a heroism that no comic book hero could ever hope to equal. If heroism is "grace under pressure," Boseman was a hero in every way.
Tributes are flooding in, but the one that touched me the most was a photograph of young children using their Marvel action figures to show the Avengers and other Marvel heroes mourning their fallen friend. Of such things are myths made.