Tim Mavergeorge '84 grew up in the Baltimore area not focused on either faith or education. After being expelled from school, he moved to Tennessee to begin again and resume his education. The young man became a believer, and in July 1981, Mavergeorge moved to Houston. Enthusiastic about his Christian faith, he enrolled at HBU and attended Houston's First Baptist Church.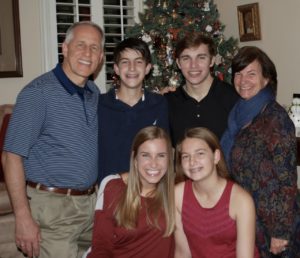 "It was really awesome because it was the first time I attended church and heard sermons," he said. "Then I came to HBU and met the professors and they helped explain what day-to-day faith looked like."
Mavergeorge was immediately enveloped in the community of students, professors, staff and administrators at HBU. Working as a waiter meant tuition payments were not easily met. Mavergeorge remembers a series of miracles that helped him along the way.
"At one point I told this (HBU administrator), 'I'm just in dire straits to be able to pay tuition.' He said, 'Where do you got to church?' and I said, 'FBC Houston.' He said, 'If Pastor John Bisagno will pay for one trimester, I'll pay for one,'" Mavergeorge remembers. "It worked out. There was a lot of graciousness at HBU and they kind of had their finger on the pulse of specific things and people."
Mavergeorge double-majored in psychology and Christianity. He took marketing classes as well, which would later serve him. Upon graduating, he continued his education at Stephen F. Austin State University, where he graduated in 1986 with an MA in Clinical Psychology. He married his wife, Nancy, that December.
His important work in counseling and mental health began in roles with the state and in ministry. Mavergeorge became a pioneer in the emerging field. "It wasn't clear cut," he explained. "Back then, if you talked to people, people would say 'counseling.' But 'Christian counseling – what does that mean?'"
Now, several decades removed, Christian counseling is widely regarded and has grown exponentially. Mavergeorge's work eventually led him to be the owner and director of the Houston Center for Christian Counseling. The Center, which has offices in Katy and Sugar Land, has served thousands of clients and families.
For Mavergeorge, life has had its challenges, including the loss of his and Nancy's second of four children. But he has seen the faithfulness of God in his own life and the lives of others. Regarding his leadership role, he says, "God had quite a bigger vision than I would have ever had for myself. Watching the number of lives changed is really awesome. Every day I just walk in with complete gratitude and humility about it. HBU was really a grace-filled place that was a good launching pad. I think I needed the smaller school and the overall Christian influence. I have tons of gratitude for HBU."