Lisa Morris Simon '76 came to HBU after trying a state university. The small, nurturing environment was the change she needed, Simon said.
As a student who majored in Mathematics, Art and Secondary Education, Morris was the epitome of a well-rounded student. "I loved my professors; they always gave me the benefit of the doubt and inspired me to do my best. The diversity of my majors helped my understanding, and the education helped my ability to communicate on a broader scale, and to have a plan for achieving goals with measured results."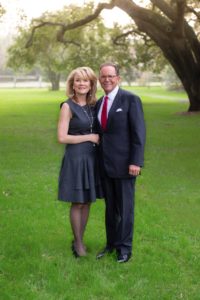 Simon is chairman of Morris Strategic Investments and president of the Joella and Stewart Morris Foundation. Simon's broad and consistent support for HBU includes serving as a member of the HBU Board of Trustees and chairing the school's 50th Anniversary Gala in 2010 with her husband, Jerry. Additionally, Simon has supported HBU's Museums, is a member of The Guild, and has furthered the University in numerous ways through her involvement.
Outside of HBU, Simon has served on boards and in organizations in Houston and beyond. She has backed causes including faith, health, women's well-being, business, historical preservation, the arts, and international relations. Simon's father, Dr. Stewart Morris Sr., is a founder of HBU whose efforts shaped the University immeasurably. Her mother, the late Joella Morris, was a supporter as well.
"My mother loved her Museum of Southern History and the permanent home it found at HBU! She enjoyed the outstanding programs and speakers that HBU attracted," Simon said. "My father remains committed for over six decades to the health and growth of HBU, willing to sacrifice time and money to sustain the success of the school. HBU has flourished under the Dr. Sloan's leadership and the school is a virtual breeding ground for young, spiritually grounded minds that are our future leaders. HBU continues to lead education in our region with innovative programs and by keeping an open mind for what truly helps these students survive and thrive in the working world and in their own families."