Cody Moncure '17 MBA '18 is one of the original 13 football players on HBU's inaugural team. The ability to be part of the program helped draw him to the school.
"I had two full scholarships to play football, one to SFA to play wide receiver and the other to HBU to play safety. Many things drew me to HBU," he said. "The Christian roots of the University, the proximity to home, the ability to help start a football program from the ground up, the coaching staff, and the ability to play on the defensive side of the ball – where my true passion was. I entered HBU in the summer of 2013."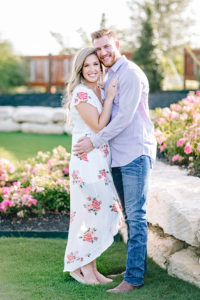 Moncure majored in Finance in the Archie W. Dunham College of Business. Some of the highlights of his time as a student include creating a brotherhood with teammates and beating Nicholls State on homecoming.
After earning his bachelor's, Moncure went on to earn a Master of Business Administration, also at HBU. He now works at New York Life Insurance Company. "My degree in finance has helped propel me into the fast-paced world of working as a financial advisor," he said. "I have a passion for helping people, and my degree has and will continue to help me impact the lives of those I work with and their families. I keep my Christian ethics at the center of my practice just as HBU does with its students."
Moncure is engaged to MacKenzie Hail '19, an HBU Nursing graduate. "HBU will always hold a special place in my heart. The memories and friendships that were built there are forever ingrained in me," Moncure said. "I am forever grateful to the University, coaches, professors, trainers, and my friends who made my time at HBU so special."