The recent horror in Beirut caused the Curmudgeon to think about various films about the Middle East and its problems. It was a serious shock when he discovered that Otto Preminger's adaptation of Leon Uris's "Exodus" is not currently available in DVD except as part of a far too expensive anthology package of Paul Newman films.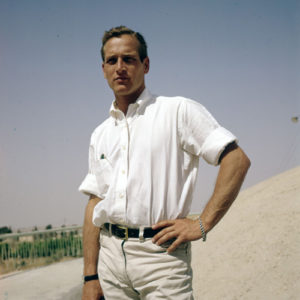 Preminger's adaptation of "Exodus" had a good cast and some memorable scenes, but I remember being disappointed with the film when it first appeared. Uris had done a fairly good job in trying to explain the ambiguities and nuances of the Arab-Israeli conflict, but Preminger did not really address those issues. Even though the cast was very good (Newman, Lee J. Cobb, Eva Marie Saint, etc.), for many people, the music was the most memorable part of the film.
Of course, there are other films about the Middle East, particularly the restored version of David Lean's "Lawrence of Arabia." The first release of that film was cut drastically, but the restored version is an eye-opener. Many of the cut scenes involved the characters played by Claude Rains and Sir Alec Guinness. The restored version is well-worth watching.
Yet another film, of far less importance, was John Milius's "The Wind and the Lion"; the film was loosely, very loosely, based on a diplomatic crisis during the administration of Theodore Roosevelt. Roosevelt did send a famous telegram to the ruler of Morocco in which he demanded that a bandit chieftain named Raisuli immediately release a captured American diplomat, a gentleman named "Pedicales" – "Pedicales alive or Raisuli dead!" In the film, Pedicales was depicted as an attractive widow and Raisuli was a still dashing Sean Connery. So much for historical realism. The best things about that film were Brian Keith as Theodore Roosevelt and Jerry Goldsmith's score. Unlike "Exodus," that film is readily available on DVD.