The Curmudgeon is becoming apprehensive about his dwindling supply of DVDs to review; however, he will soon have stacks of student essays and tests that can serve as targets for his slings and arrows.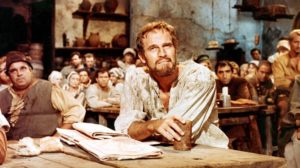 The latest excursion into the realms of nostalgia was "The Agony and the Ecstasy," the adaptation of portions of Irving Stone's massive novel about Michelangelo. The film stressed the friction between the reluctant Michelangelo and the domineering Pope Julius II; out of that friction, something glorious was born, and I still relish my memories of seeing the Sistine Ceiling.
Charlton Heston and Rex Harrison were good as the friendly enemies, but I was always bothered by Harrison's lack of a beard; Julius had a heavy beard in all his portraits. Adolfo Celli, better known as the villainous Count Largo from Thunderball, did well as the future Pope Leo X.
By the way, this film was not Heston's first encounter with characters from Irving Stone's books; I remember him from the black-and-white version of "The President's Lady," an early Stone novel about Andrew Jackson's stormy courtship and marriage. A few years later, Heston played an aging Jackson in Cecil B. DeMille's second version of "The Buccaneer." (The first version from the 1930s is much better even though one of the supporting characters is the most annoying female role I have ever seen.)
Many films such as "The Agony and the Ecstasy" do not do well on television, even on large screens. There is just too much compression of the image. Even so, this one is worth seeing again, but not too often.