Andre Walker
With one of the most impressive seasons on the football field in program history, along with his dedication in the classroom, senior defensive end Andre Walker was selected as the HBU Robbie Robertson Male Athlete of the Year.
The Slidell, Louisiana, native carries a 3.69 GPA as a biochemistry and molecular biology major, and was one of the two Football Championship Subdivision (FCS) Athletic Directors Association (ADA) Scholar-Athletes of the Year, which earns a $5,000 postgraduate scholarship. Walker was chosen to the FCS ADA Academic All-Star Team, and earned CoSIDA Academic All-American and Southland Conference All-Academic First Team honors.

On the field, Walker was voted to the American Football Coaches Association and HERO Sports All-America Team and was an All-Southland Conference First Team selection. He led the FCS with 15.0 sacks, while registering 55 tackles, tying for the league lead with 19.5 tackles for loss during the regular season, to go along with two forced fumbles and three pass breakups.
Walker, who served as HBU's Student-Athlete Advisory Committee president, finished his career as HBU's all-time sacks leader with 26.5, ranks fourth with 191 tackles, and second with four forced fumbles.
After not being chosen in April's NFL Draft, Walker was discussing invitations to minicamp with several teams, until the COVID-19 pandemic canceled those workouts. He plans to continue those negotiations when the NFL resumes operations. Walker still has one semester remaining to complete at HBU, then he will apply to medical school.
Kaitlin Smith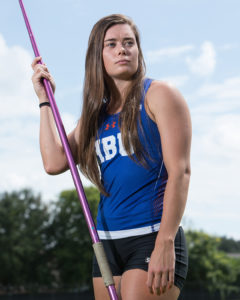 Junior track and field student-athlete Kaitlin Smith is also a standout, both in competition and in the classroom. She earned the HBU Jan Edds Female Athlete of the Year honor.
The Wailuku, Hawai'i, native captured the gold medal in the pentathlon at the Southland Conference Indoor Track & Field Championships with a score of 3,896 points. Smith broke her own school program record in the event by more than 200 points, setting personal bests in the high jump, shot put, long jump and 800 meters. At last year's Southland Conference Outdoor Track & Field Championships, she placed fifth in the heptathlon with a school-record total of 5,040 points.
Smith currently has a 3.97 GPA as a kinesiology major and earned Southland Conference All-Academic honors as a sophomore.
Varsity Athlete Academic Award
Each of HBU's five Varsity Athlete Academic Award winners carry a 4.0 GPA and are at least juniors academically.
Brent Pronger
Senior left-handed pitcher Brent Pronger is a management major. The Burleson, Texas, native made seven appearances, including three starts this spring, going 1-1 with a 6.50 ERA and 12 strikeouts in 18.0 innings. Pronger earned his first victory at HBU, hurling four shutout innings, allowing two hits and striking out three against Prairie View A&M on March 3. He threw 3.1 innings of relief, allowing one unearned run on four hits with two strikeouts in the season opener against No. 3 Texas Tech.
Sierra Humphrey
Junior outfielder Sierra Humphrey is a biology major. The Tecumseh, Oklahoma, native earned Southland Conference All-Academic honors as a sophomore. She had appeared in 12 games this spring, hitting .238 (5-for-21) with two RBIs. As a sophomore, Humphrey started all 46 games and hit .271 with two doubles, a triple, 12 RBIs and 13 runs, and in her first season, started 41 games, with three doubles, six RBIs and 13 runs.
Ashley Arnes
Redshirt freshman Ashley Arnes is an accounting major. The Layton, Utah, native has redshirted her first two seasons with HBU women's soccer.
Emma Dooher
Junior Emma Dooher is a legal studies major. The Cedar Park, Texas, native redshirted this season, after appearing in four matches with three shots on goal in 2018. As a freshman, Dooher played in eight contests, took five shots and scored a goal at Abilene Christian
Megan Rickert
Junior defender Megan Rickert is a kinesiology major. The Round Rock, Texas, native earned her third-straight Southland Conference All-Academic Team honor, making the first team this past fall, and was a CoSIDA Academic All-District selection. Rickert also twice earned All-Southland Conference honorable mention. This season, she started all 18 matches and ranked second on the team, logging 1,610 minutes. As a sophomore, she started all but one match, played 1,459 minutes and recorded a pair of assists, and as a freshman, started all 17 matches, playing 1,554 minutes and recording two assists.
Danielle Wheeler
Senior beach volleyball student-athlete Danielle Wheeler earned the Galdino Lucero Service Award for a second-consecutive year. The San Diego native ascended to SAAC President in the spring, after serving as vice president in the fall. She has also served in other campus organizations and assisted with recruiting to make HBU a better community. Wheeler compiled a 49-38 record in her four seasons at HBU, ranking fourth all-time in wins. This season, she teamed up with Lauren Huggins for a three-set victory at the No. 3 position in the Huskies' 3-2 upset of ninth-ranked Stetson, the program's first-ever win over a ranked opponent. Wheeler's .800 winning percentage ranked second on the team last year, compiling a 20-5 overall record.
Anthony Martin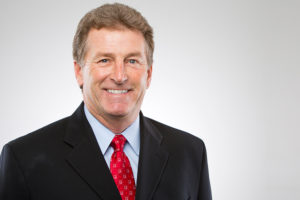 Former HBU Bookstore Director Anthony Martin was posthumously recognized with the Frances Curtis & Mildred Boone Spirit Award. Martin passed away November 10, 2019, at the age of 63 in Fort Myers, Florida, doing what he loved, playing in the Adult World Series Baseball Tournament. Martin managed the HBU Bookstore for more than 20 years before moving to a new position with Indico. He served on the official scoring crew at Husky men's and women's basketball games and, even after he had left HBU, remained an avid supporter and regular attendee at Husky sporting events. Martin always went above and beyond, out of love, in his service and support of HBU student-athletes, coaches, and staff.