By Michael Roque Collins, HBU Professor of Art
Over the past number of years Houston Baptist University, MFA students and faculty alike have been awarded at the highest level in the historic annual Assistance League of Houston juried art exhibitions.
Each year, the Assistance League hires a preeminent national art expert from top museums such as the Modern Art Museum in New York, the Guggenheim, the Clifford Still Museum in Denver, and the Los Angeles Contemporary Art Museum to jury their annual, professional, statewide artist exhibition. Generally, in these exhibitions, thousands of individual artworks are submitted and reviewed by the jurors, and 40 to 60 individual artworks are selected for exhibition. From these, the top three prizes range from one honorable mention to three top cash prizes.
Beginning with our MFA candidate, Mr. Tivakorn Sirinopawongsakorn (MFA 2017), was awarded second prize in 2017 for his sculpture. In 2018, our MFA student, Mr. Ryan Baptiste (MFA 2019), was awarded third prize, and last year, in 2019, our assistant professor, Ms. Esther Delaquis-Baidoo, and our MFA student, Ms. Mychon Deslandes (MFA 2020), won both second prize and the one honorable mention. Each year, more than 300 artists apply to the Assistance League Juried Exhibition with an estimated 900 works of art in which roughly 50 works are chosen. At least 15% of the entries that are accepted into the Assistance League Juried Exhibition each year are from the HBU Fine Arts program students and faculty.
This year was the best showing to date as our first-year MFA student, Mr. Clinton Millsap (MFA 2021), was awarded both the $1,000 honorable mention and the $4,000 first prize for one of his paintings.
Each of these MFA art students and faculty produce broadly different styles and modalities of creative work, and each have been awarded with high esteem. This places the HBU MFA studio art program worthy of the highest regard. A large number of great artists in the state of Texas, having educations from major Ivy League art programs and West Coast programs, enter this exhibition each year. This makes consistently winning in this most competitive environment a singular program-affirming recognition. These awards for the artists' creative voices, and also for the wide variety of thematic content and highest quality consistently created by our MFA students, make our MFA program stand alone with this excellent research, peer-review record.
The real story above and beyond the quality and repetitive awards demonstrated these many years by our MFA program is the Christian spirit demonstrated by the MFA students. Mr. Millsap, upon receiving his first prize and his honorable mention, informed the League officials (at the moment of the awards announcement) that he would be donating his thousand-dollar honorable mention for art supplies to aid poor children in the Houston area that could not afford artist materials. Clearly, this Christian spirit of giving, which our MFA students consistently demonstrate, was immediately shared to the broader secular Houston art world during the opening. By doing so, this act of Christian charity enabled the many to see the benefits of our Christian environment. Clinton's generosity, and that of other students, is one of the reasons why HBU Visual Art in the School of Fine Arts on the HBU campus is so very special and worthy of recognition. Truly one of the greatest blessings of being able to utilize God's seeds of creativity, through one's own creative efforts, is felt in gifting to others freely. This generosity is in support of heightened quality and experience for others.
Mr. Clinton Millsap, through his creative excellence and generosity, is a shining example of what it truly means to be a Christian artist, and his efforts well represent the spiritual intentions of our MFA art program and our campus overall.
Wednesday, Jan. 18, 2017
Juror
Jose Esparza, Chong Cuy
Pamela Alper Associate Curator, Museum of Contemporary Art Chicago
Chicago, Illinois
Second Place: Mr. Tivakorn Sirinopawongsakorn (center) with director of the Assistant League and a collector of Tivakorn's work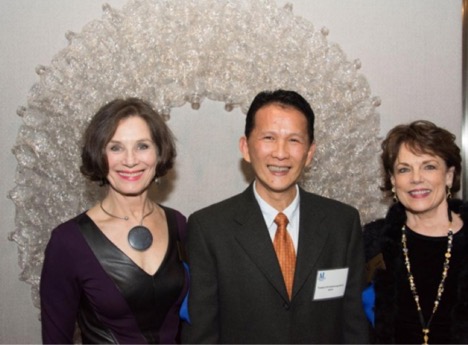 Wednesday, Jan. 17, 2018
JUROR
Anna Katz
Assistant Curator, The Museum of Contemporary Art, Los Angeles
Los Angeles, California
Third Place: Ryan Baptiste, "Grown Folks Talking"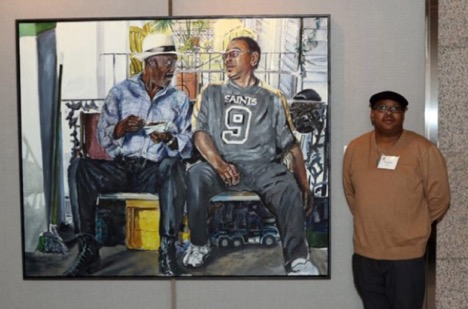 Thursday, Jan. 17, 2019
JUROR
Jennie Goldstein
Assistant Curator, Whitney Museum of American Art
New York, New York
Second place: Esther Delaquis-Baidoo, "Hair day1"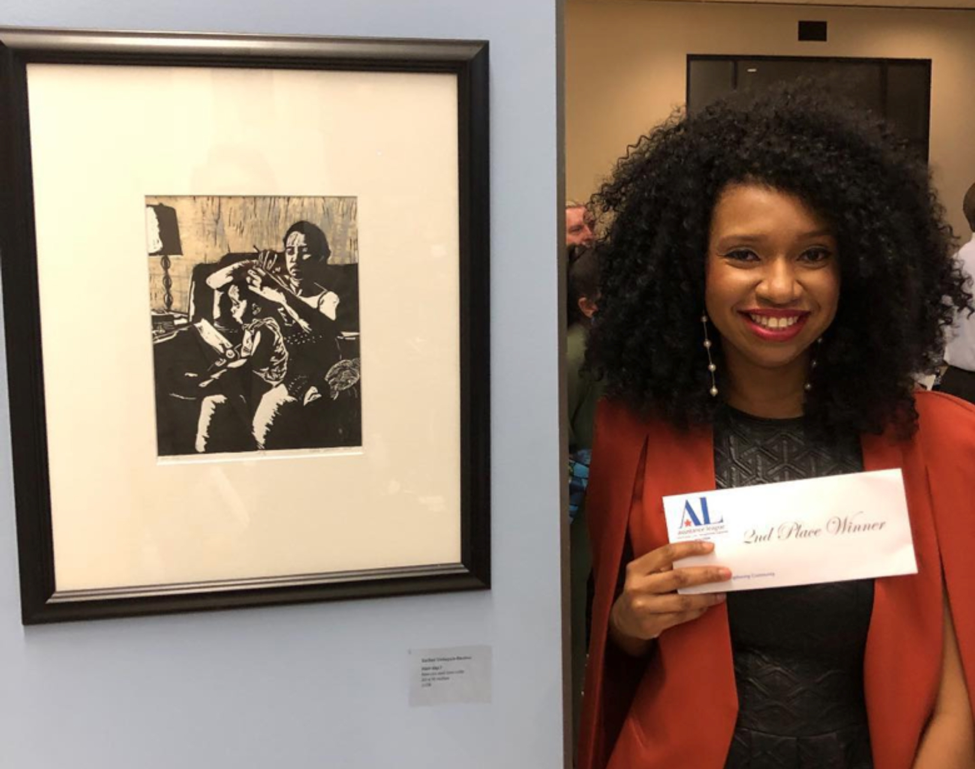 Thursday, Jan. 17, 2019
JUROR
Jennie Goldstein
Assistant Curator, Whitney Museum of American Art
New York, New York
Honorable Mention Prize: Mychon Deslandes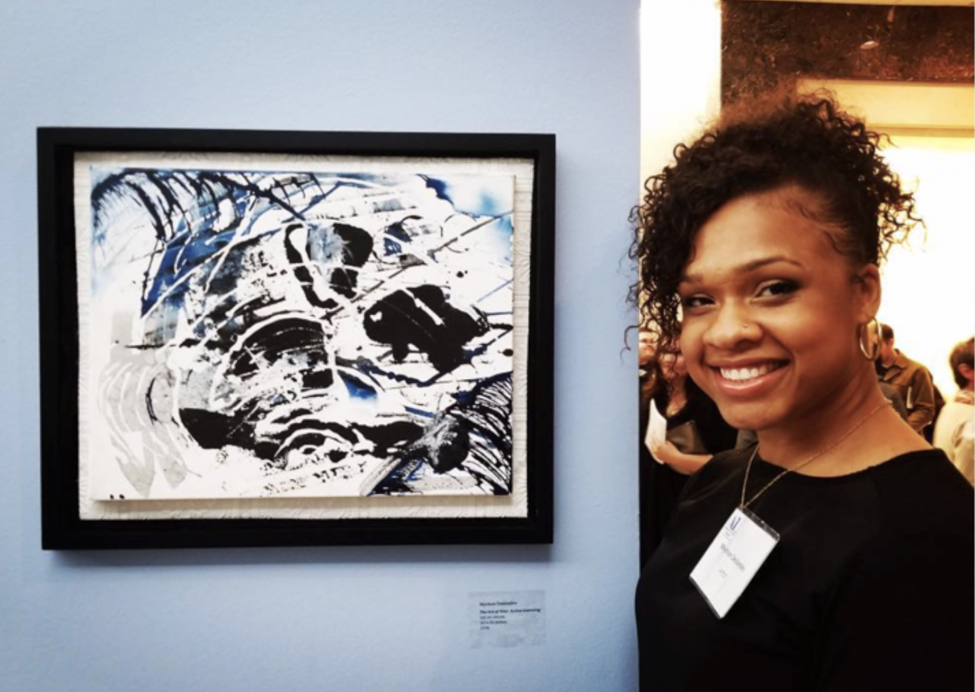 Thursday, Jan. 16, 2020
JUROR
Cara Manes
Assistant Curator, Museum of Modern Art
New York City, New York
First place: Clinton Millsap (pictured with Cara Manes)
Honorable Mention: Clinton Millsap