Christian Origins
"Diversity" has become a modern buzzword, but its origins are more traditional and more Christian than perhaps many realize. The Bible begins with the story of a creator God making numerous kinds of vegetation, sea creatures, birds and land animals, and calling the variety good. Then, God makes mankind – also different in male and female – to start a human race of people who would be similar to each other and yet distinct. The Apostle Paul reviews the creation account in Acts 17:26: "From one man he made all the nations, that they should inhabit the whole earth; and he marked out their appointed times in history and the boundaries of their lands."
Yet, within the diversity that God blessed, He sent His son as a unifier. He alludes to the future messiah in His promise to Abraham in Genesis 22:18: "Through your offspring, all nations on earth will be blessed." The prophet Isaiah records God's promises regarding Jesus in Isaiah 53:11, "After he has suffered, he will see the light of life and be satisfied; by his knowledge my righteous servant will justify many, and he will bear their iniquities," and in Isaiah 61:11, "The Sovereign Lord will make righteousness and praise spring up before all nations."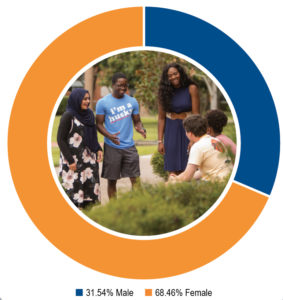 King David paints a stirring, prophetic picture of Jesus on the cross in Psalm 22, then declares in verses 27 and 28, "All the ends of the earth will remember and turn to the Lord, and all the families of the nations will bow down before him, for dominion belongs to the Lord and he rules over the nations."
Upon learning that she was to bear the messiah, Mary declares in Luke 1:48: "From now on, all generations will call me blessed."
In explaining the Gospel of Jesus Christ, Paul echoes and elucidates the promise in Genesis 22:18. He tells new believers, "So in Christ Jesus, you are all children of God through faith, for all of you who were baptized into Christ have clothed yourselves with Christ. There is neither Jew nor Gentile, neither slave nor free, nor is there male and female, for you are all one in Christ Jesus. If you belong to Christ, then you are Abraham's seed, and heirs according to the promise" (Galatians 3:26-29).
The wonderful balance of diversity and unification reaches its pinnacle in John the Revelator's vision of heaven, found in Revelation 7:9-10: "After this I looked, and there before me was a great multitude that no one could count, from every nation, tribe, people and language, standing before the throne and before the Lamb. They were wearing white robes and were holding palm branches in their hands. And they cried out in a loud voice: 'Salvation belongs to our God, who sits on the throne, and to the Lamb.'"
The invitation of the Gospel is that God delights in His creation and desires each person to come and to know Him.
HBU's Founding Mission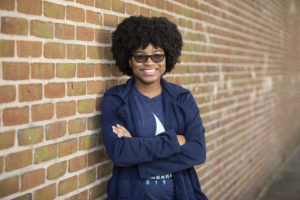 It was with the strong stance of Christianity that founders established Houston Baptist College in 1960. The founding was the culmination of years of work – securing supporters, finding property, ensuring funding, recruiting faculty, and the like. While the school had its roots and support in a largely Baptist heritage, the College was meant for all students who valued a Christian faith-based and liberal arts education. In his book, "An Act of Providence: A History of Houston Baptist University, 1960-2010," Dr. Don Looser records the vision for the new College in Houston, as voiced by Dr. Forrest Feezor, executive secretary of the Texas Baptists (BGCT), in 1960: "The College not only will fill the needs of Baptists, but of the entire Houston community." (Notably, the first freshman class would include students from around the state, country, and even the world.)
In February of 1961, the Board of Trustees unanimously approved the College Preamble, an unapologetically Christian statement with the kind of openness to students that would continue into the future. It read, "Founded under the providence of God and with the conviction that there is a need for a college in this community that will train the mind, develop the moral character, and enrich the spiritual lives of all people who may come within the ambit of its influence, Houston Baptist College shall stand as a witness for Jesus Christ…"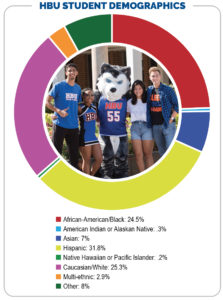 Trustee Howard Lee, Sr. described the Preamble as "pro-Christian, not anti-anything" (Looser, 2010). At the first faculty meeting held in 1963, the group addressed the matter of racial diversity. Founding College president, Dr. William H. Hinton, said, "When a qualified person applies, he will be presented to the Board for approval. The feeling is that he will be admitted. Our hope is that it will be a smooth process and just routine."
Looser notes, "By the opening of the College in September, it was freely communicated on campus that the College did not discriminate on the basis of race in student admission or employment." Especially before the Civil Rights Act of 1964, "The HBC position was a significant stand in 1963 and well ahead of its time," Looser says. Later, former professor A.O. Collins recalled, "I remember the first black student who enrolled – how pleased I was that there was no problem as he was immediately accepted as a member of the Coreons fraternity and occupied a position on the BSU Council."
About 60 years since its founding, Houston Baptist University has become one of the most racially diverse higher education institutions around. The University ranks fifth in diversity among Regional Universities West according to the U.S. News & World Report. HBU also has the distinction of being a Hispanic-Serving Institution (HSI). It reflects the makeup of Houston, and even of the world.
Diversity of Thought
Students at HBU represent a broad set of takes on religious views, ranging from Anglican to undecided, Hindu to Catholic, Methodist to Muslim. Students are required to take six hours of Christianity courses and three hours if they transfer in with 45 or more credit hours. Considering Christianity has provided the underpinning of much of Western civilization, learning about the faith is valuable for anyone.
Within the School of Christian Thought, the fundamentals of the Christian faith are emphasized. Dr. Todd Bates, dean of the school, said the school's diversity of Christian thought begins with its faculty members, who hail from multiple denominations and Christian traditions.
"We are focused on the essentials," he said. "We are deeply committed to our Baptist heritage but are broadly evangelical. We share a fundamental commitment to Christ and His Word, and a mere Christian approach to Christian tradition. A vibrant approach to a variety of positions gives our students a full picture of Kingdom life."
A range of Christian approaches by fellow students during his own seminary training served him well, Bates said. "I can honestly say I hold my views with conviction because I've been confronted with those who didn't share my convictions," he said. "When I state my beliefs, I might not be working with someone who will buy my beliefs at face value. You have to know why you believe what you believe. It's not just getting a sounding board or an echo chamber. It's a good deal of fun to engage with those with other views. It fosters humility. As the statement often attributed to Saint Augustine, but now believed to be stated by the German theologian, Rupertus Meldenius, expresses regarding Christian doctrinal differences, 'In essentials, unity; in non-essentials, liberty; in all things, charity.'"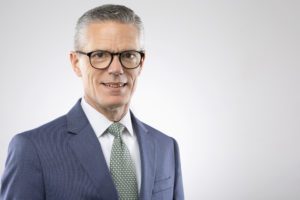 Provost of the University, Dr. Michael Rosato, talked about the contrast of oneness and diversity, boundaries and liberty, within the Gospel, itself. "Christ, Himself, said the way is narrow. However, he also certainly provides what the Apostle Paul talks about – freedom in Christ," Rosato said. The One who said He is the only way to God also said He came to offer an abundant life.
"The whole topic of diversity is interesting – how God created human beings in His image, but with so many different races and cultures, all of whom have the same opportunity for salvation in Christ," Rosato said. "At HBU, an institution based on a Christian, and specifically Baptist heritage, all are welcome to attend school here, and yet we are very clear about our Gospel-centered mission as we operate the University intentionally from a Christian perspective."
Within Houston, HBU is uniquely positioned to equip students for their God-given callings, Rosato said. "Most protestant colleges are located outside of major, metropolitan areas," he said. "Here, we can serve our city and have influence far beyond Houston. Our faculty, staff and administration collectively contribute to help hone students' abilities and help them identify where God is calling them to serve. The highest calling for each person is to do what God has gifted them to do."
Diversity of Experience
HBU students find their way to the school from locations around the area, the state, the nation, and the world. Some of them are freshmen, some are transfer students, some are master's or doctoral students. There are athletes, working students, returning students, first-generation students, military veterans, on-campus and online students. Each learner has a sundry set of goals and has chosen a unique major.
"Houston is the most diverse city in the United States," said director of International and Veteran Student Services, Shannon Bedo. "In line with being the most diverse city, HBU reflects the beauty of that diversity by welcoming students from more than 50 different countries. Our students feel at home because the campus looks like the world."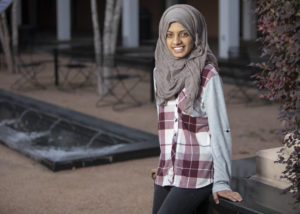 Military service people and veterans find a home at HBU, where there is a strong support network and their experiences are valued. "They can mentor younger college students. We focus on building relationships with each other, no matter what your background is," Bedo said. "You don't have to come from a Christian background or a certain culture; you will find someone who is similar to you."
David Hao, former dean of the Department of Student Success and Advising, said, "As a student, when you're encountering people from different backgrounds, different ideas, and some of them are your closest friends, it prepares you for the diverse workforce. Everyone can find a niche here, a place to belong, a person they can go to. Some of it is with us in the department, and some of it is the relationships we help facilitate. As much as students are learning from us, we're learning from them. Sometimes we have these inaccurate assumptions of this new generation. But what we hear from them is that they're extremely grateful, focused and want to maximize their opportunity here. They're thinking very seriously, not just about the job they want, but how it gives back to greater society. The rich perspective of diversity is the kind of stuff that gets you up in the morning and makes us more fully appreciate what we get to do here in our roles at HBU."
Likewise, HBU faculty members come to HBU from around the United States and from international locations as well. They bring their varied Christian traditions and manifold life knowledge to the table to provide unparalleled learning opportunities for students.
"Not only are our faculty academically qualified at the highest levels, but we have professionals who are experientially qualified as well – they have done the kind of work that they're teaching students to do – classroom teachers, ministers, businesspeople, authors, nurses, engineers, attorneys, law enforcement and more," Rosato said. "Their research and publications reflect that richness as well."
While some might view faith-based institutions like HBU as insular, in fact, the opposite is true. The University provides a more complete academic picture, with the best of secular scholarship and faith tradition to provide the broadest knowledge and wisdom, and to form the whole student.
---
References:
Bible verses are from the New International Version.
Looser, Dr. Don. (2010). "An Act of Providence: A History of Houston Baptist University, 1960-2010." Halcyon Press.