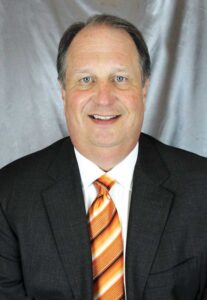 Coaching Philosophy:
How I coach is a reflection of where I am at HBU. I've been here for 29 years and love everything about the institution. Having high-quality academic young men on our campus is a trademark of who we are as a program. We take these young men, develop them, and produce high-character, high-quality young men who go out and are productive in today's society as great family men and men of God.
James Sears Bryant Head Men's Basketball Coach and associate athletic director, Ron Cottrell, joined the HBU program in 1990 two years after he graduated from the University of Arkansas, where he also coached briefly. HBU had dropped basketball in the late 80s, and reinstated it beginning in the fall of '91. Cottrell has been leading the program ever since, and is now approaching 500 career wins.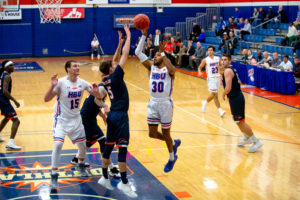 During the NAIA (National Association of Intercollegiate Athletics) years, he led the team to the national tournament for 10 straight seasons. Since transitioning to NCAA Division I, the team has competed in two national tournaments.
Cottrell has high standards; it's a perspective that begins with recruiting players who are the right fit for the team, and carries on to graduation and beyond. "It's very beneficial for guys to come to HBU," he said. "They get small class sizes and high-level instructors who are committed and want to see students succeed. As coaches, we try to be role models and set the expectations for how we're going to conduct our program and who we want the players to be. We can talk openly about our faith and share that with the guys. It makes HBU a special place. The competitive side of basketball is being able to play at the highest level there is, and we want to make sure we put the team in a position to be a success. We've had many men go on to pro-basketball. All of that work is also to see them get a degree, and grow up to be husbands and fathers and great men in the community."
Jackson Stent, a senior forward, said Coach Cottrell and the coaching staff were major selling points in his decision to play for HBU. "They work together very well at practice and at games to create a great culture," he said.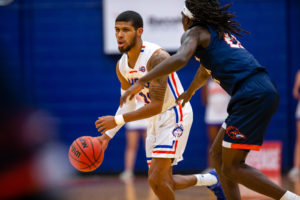 Junior guard, Ty Dalton, said, "Aside from the Xs and Os of basketball, these coaches have taught me a lot about life – specifically loyalty and family. The coaches have helped me through a lot. Knowing someone has your back is a good feeling."
After almost 30 years, there is rarely a week that goes by in which a former player doesn't stop by the basketball office. "They feel a connection to our program and remain very close," he said. "Many times you'll come to a basketball game and you'll see guys come who used to play together. We're like a family. They call or text me about what's going on in their lives. It's rewarding and a great thing about being here as long as we have."