I hoped, in vain, that there would a good film or two opening during the October 19 weekend. I just could not work up any enthusiasm for another episode in the "Maleficent" saga and stayed home.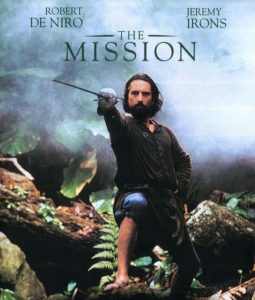 I consoled myself by dragging out a DVD I had not watched for 15 or more years, "The Mission." I remember seeing the film for the first time in the old Westwood Mall theater, one of the most uncomfortable theaters I have ever encountered. I was impressed with the visual beauty of the film; I am still impressed.
The film is something of a letdown. Jeremy Irons and Robert De Niro are excellent, but they never strike sparks as two 16th-century Jesuit priests attempting to save a mission from a Spanish army. I expected better from Robert Bolt, the same screenwriter who gave us "A Man for All Seasons." In the end, the score and the photography are the most memorable parts of "The Mission."
In some ways, the film resembles "Black Robe," a story about Jesuit missionaries in early Canada. I don't think I have seen that one since it played in theaters.
Good films are coming and I will be ready.