Houston Baptist University recognizes the Linda and Archie Dunham family for their contributions and friendship to the University. The Dunhams are HBU's "2019 Family of the Year." Linda and Archie, with their children, Steven, Laura Shook, and Cary '93, will be honored during HBU Homecoming activities on Saturday, Oct. 26.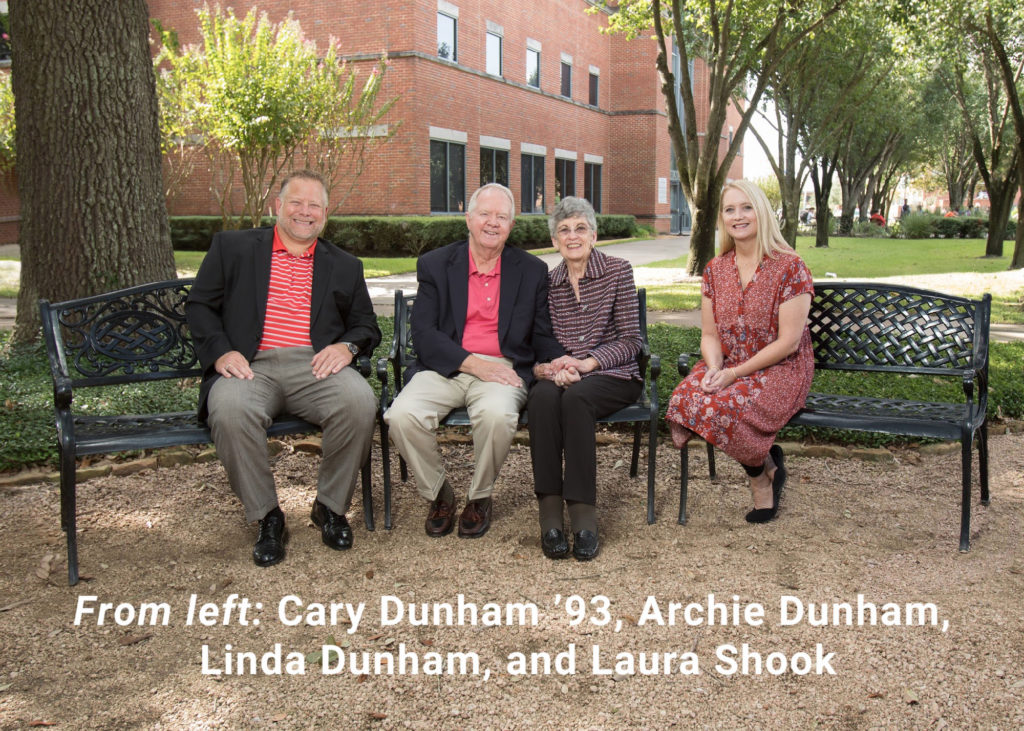 Linda and Archie Dunham have contributed broadly to HBU's success with their gifts and support. Their namesakes on campus are the Linda & Archie Dunham Theater, the Archie W. Dunham College of Business, the Dunham Bible Museum and Dunham Field in Husky Stadium. They are charter members of HBU's Covenant Society; Linda is a member of The Guild.
HBU president, Dr. Robert Sloan, said, "The Dunham family is enormously deserving of this recognition by HBU. They are not only one of the greatest families in HBU history, but one of the greatest families I know anywhere. Their faith, integrity, generosity and service to God's Kingdom are an inspiration to all of us. Sue and I count Archie and Linda among our dearest friends, and we take great joy in seeing this recognition for them and for their outstanding family."
"Being recognized as the HBU Family of the Year is a wonderful honor as we love the University and the values that it represents," Archie Dunham said. "Our association with HBU began with the graduation of our son, Cary. The relationship with HBU continued to grow strong with our support of the Dunham Theater and Bible Museum and numerous scholarships honoring Cary and my mother. We were honored to become close friends with Dr. Robert and Sue Sloan, the president and first lady. Robert is an outstanding leader who loves the Lord and Sue is a loving and caring first lady."
Cary Dunham remembers his years at HBU fondly. "I had a great time at HBU; I enjoyed being an HBU cheerleader and squad captain. I remember playing intramural sports with my fraternity brothers. The professors always had your best interest in mind."
Laura Shook said, "Our family has been involved with HBU since the 1990s, and we are grateful for the impact the University has had on our family. We are grateful for the fusion of faith and learning, and we are proud of the quality graduates HBU is fostering. We are proud to have our family name associated with HBU."
HBU Families of the Year exemplify Christian values and support HBU's mission. The selected family is recognized at various events, and a tile is placed in the University's Walk of Honor to commemorate them. Annually, a tree is planted on campus in each family's honor.