5) No commute
The average one-way commute time for Houstonians is 27.3 minutes. No drive means more time for study and University involvement. (HomeArea data)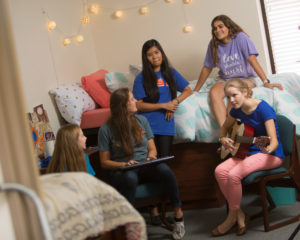 4) Comfortable living
Thanks to modern dorms and renovations to existing dormitory spaces, living on campus has never been nicer.
3) Close to it all
On-campus students don't miss campus happenings or important traditions, and have easy access to resources such as the Academic Success Center.
2) Community
Living on campus means student organizations, spiritual life activities, study groups, sports, intramurals, and more are in your backyard!
1) Better academic performance
Students who live on campus have a higher average GPA and are more likely to graduate on time. (American Council on Education and HBU data)