The weekend of August 24 ended the summer break and I used it to catch "Angel Has Fallen," the third installment in Gerard Butler's Secret Service trilogy.  It was a very satisfying way to end the summer: plenty of bone-crunching, eye-gouging mayhem.
I was impressed by the opening scenes in which Butler's character admits that he is suffering  physically and emotionally from his two previous rescues of the president, once from North Korean terrorists, once from Middle Eastern terrorists, and now from domestic terrorists. The body count in these movies is similar to those in Bruce Willis' "Die Hard" franchise.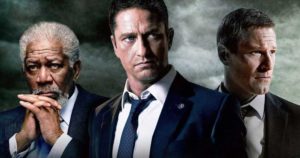 Butler is always good in action films; Morgan Freeman, the speaker of the house in earlier installments, is now the president who has to be rescued from a coup d'etat staged by a highly placed traitor. It took me about two seconds to figure out who the villains were, but that did not detract from my enjoyment. The true surprise is Nick Nolte as Butler's cantankerous, curmudgeonly father who turns out to be even more lethal than his son. (If you think I am antisocial, wait until pops goes into action.)
If this film makes as much money as I think it will, there will be one or more sequels. A scene inserted into the closing credits seems inappropriate, but I still enjoyed the film.
I can't say that I was overwhelmed by the trailers for the latest "Terminator "and "Rambo" film; on the other hand, I rejoiced at the trailer for "Star Wars 9: The Rise of Skywalker." We have a long slog ahead of us before that blessed event.