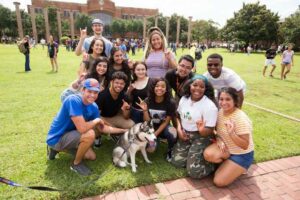 Houston Baptist University is proud to welcome the largest freshman class in history this week. The fall 2019 freshman group is about 30 percent larger than the fall 2018 incoming freshman class. This growth far outpaces the national average of 2.4 percent annual student growth for four-year, private, nonprofit institutions, according to the most recent report from the National Student Clearinghouse Research Center. (Fittingly, the traditional HBU freshmen versus upperclassmen tug-of-war event the first week of school was won handily by the freshmen!)
Additionally, HBU has reached its largest graduate school enrollment. Undergraduate and graduate student enrollment together totals more than 3,800, the University's highest student number to date.
The freshman class is also the most diverse in University history; HBU ranks fifth in diversity among Regional Universities West according to the U.S. News & World Report. HBU has the distinction of being a Hispanic-Serving Institution (HSI).
Dr. Robert Sloan, HBU president, said, "All of us in the HBU family are greatly encouraged by this record, entering class. It is deeply gratifying to see such strong affirmation of the University and the desirability of our degree offerings. We are confident that HBU students will continue to make a significant impact in the years to come in Houston and beyond."
Similarly, HBU continues to grow in programs. The fall of 2019 marked the start of seven new degree offerings, including the EdD in Executive Leadership in Mental Health and Human Services, the University's third doctoral program. HBU offers 72 undergraduate and 41 graduate degrees, along with 22 certificate programs. In addition to a robust, on-campus community, many students further their education through the Pampell Online Division.