HBU alumna, Abbe Adams '16, was attending the American Bar Association Annual Convention with the Student Bar Association of The University of Oklahoma in August 2018 when someone sitting at her roundtable caught her eye. There were students representing universities throughout the United States, so she didn't expect to see someone she knew in such a niche group.
"I kept looking at him," Adams said. "Finally, I said, 'Did you go to HBU?'"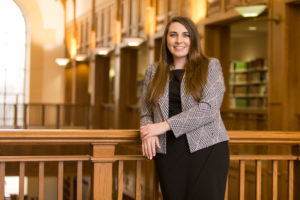 It turns out he did. Femi Aborisade '14, graduated shortly after Adams entered HBU in 2013. Adams was serving as the president of the OU Student Bar Association, and Aborisade was serving as the president of The University of Texas Student Bar Association.
"I think the odds are pretty low that two students from HBU would run into each other in Chicago and be doing the same thing," Aborisade said.
Each of them reflects on their time at HBU with appreciation for the preparation the University provided. Adams came from Farmersville, Texas, and was a high jumper on the Track team and a business major. Additionally, she was on the Sled Team that cared for the Husky mascot, Kiza, was a Husky Ambassador, was director of public relations for the Student Government Association, and was president of the business honors society, Delta Mu Delta. In 2016, she was named "Miss HBU."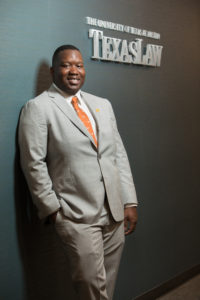 Aborisade came to HBU by way of Sugar Land. He was a political science major with a minor in Latin. He was a member of Beta Upsilon Chi and was involved in the student publication, named The Collegian at the time. There he served as an assistant entertainment editor, then as entertainment editor, before becoming managing editor.
"That was a formative experience for me," Aborisade said of his role with the publication. "Working with a team and having the courage to interview people and put my opinion out there, I felt like I grew a lot and got more comfortable letting people know how I feel on paper."
Aborisade remembers turning in a paper in a writing class his freshman year and being challenged: "I turned it in and felt really good about it, and I got a 'C.' It was a good wakeup call. I realized you can't turn in the same work as high school. You have to grow."
Adams was influenced by the Center for Christianity in Business, HBU Spiritual Life, and the community HBU offered in academics and athletics. She landed a human resources internship during her college years with Briggs & Veselka Co. by attending an on-campus job fair. She was encouraged into law in part through a business law class taught by Dr. Jodey Hinze.
"In general, I'm just so thankful for my time at HBU," Adams said. "It completely molded and shaped who I am and where I'm at. God wanted me there and He set me up many times along the way."
Both students agree that HBU prepared them for the next step.
"I think the best thing about HBU is the dedication to the liberal arts and critical thinking," Aborisade said. "It's very similar to a classical education. You're going to read a text and have a light debate. That's very similar to what we do as graduate students. It's discussion rather than indoctrination."
Classes at HBU helped ready her for law school, Adams said. "My business courses were relatively difficult. I don't think it was easy at any point," she said. "HBU is academically very impressive. We had an open conversation in all of my classes. You could expect to be called on and contribute. Law school is cold call. I was never that nervous because we had such a fantastic community. At HBU, every one of my classes had some sort of presentation, so I was comfortable being prepared. That was something I probably would not have gotten if I had gone to a larger university."
After they graduate in May of 2019 and take the Bar Exam, both Adams and Aborisade have jobs lined up in Houston. She will be in the in-house legal team of Boardwalk Pipeline Partners and he will do corporate transactional work for Sidley Austin LLP.
Aborisade gives a word of advice to current HBU students: "They should really stick true to what they want to do in terms of their career. There are so many career paths out there. They should seek out people who are engaged in the careers they want to be in and make mentors out of them."