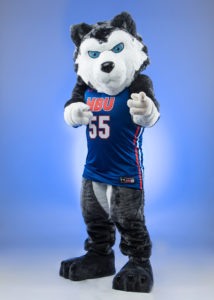 "Mingo" as he is known, is HBU's recognizable Husky-suit mascot, appearing at games and University events. The name "Mingo" harkens to the first four-legged, Samoyed dog who served as the HBU mascot from 1969 until the early 80s. Today, like Mingo's canine counterpart, Kiza, the huskies are iconic symbols of HBU pride and spirit.
Page Butera Hernandez '05, director of HBU Alumni Relations, remembers how special it was to serve as the University mascot in 2004 and 2005. "I cherished the opportunity to give back to HBU and to be part of the atmosphere of Athletics and carrying out the school traditions of pride in the orange and blue," she said. "I felt like, being at a game and being in the suit, when the pep band would play and I would do my dance moves across the court, it was a way to entertain the students, families, and everyone there, and to show what a great place HBU is."
The beloved mascot has lately shown its decades-old age. The HBU Alumni Office launched an initiative in 2018 to help raise funds for a quality, new mascot suit that would continue to represent HBU well. Hernandez and other former students who served as HBU mascots, including Judi Pyburn '94 and Nicci Byrd '03, along with cheerleaders, Randy Garbs '76 and Cary Dunham '93, put their efforts behind the fundraising initiative.
Thanks to the generous gifts of alumni, faculty/staff and friends, a new and improved Mingo suit was ordered. The upgraded Mingo mascot made his debut amidst cheers and celebration during Honors Convocation on May 1. Students lined up to take photos with the new University representative.
The new costume has a glossy, silver and white coat, large blue eyes, a muscular build, and a competitive, but friendly, face. Unlike the old suit, this one has a built-in cooling fan, a cooling vest, ventilation, a larger viewing area, flexibility in movement, more agile hands, and less clunky pawed feet.
Although mascots can't speak, they communicate a great deal through their body language, and even through their presence. "Whether it's in professional sports, college or high school, you see mascots really make a difference at events," Hernandez said. "This will be something to help grow school spirit. There are lots of events on campus that the mascot can be part of and help welcome people to campus."
Mon'Sher Spencer '08, director of Student Involvement and Student Leadership Programs, said, "Mingo is important to HBU because of the legacy he represents. HBU is a great place and everything from our great academics to our spirited mascot speak to the wonderful place HBU is."
Ron Cottrell, the James Sears Bryant head men's basketball coach and associate director of HBU Athletics, came to HBU in 1990. With nearly three decades invested in HBU, Cottrell was a big supporter of the initiative to bring in a fresh mascot.
"HBU's school pride and spirit is visible in many ways, but none better than Mingo's presence at games and events on campus and around the Houston area. The rich tradition of Mingo resonates with HBU faithful across the generations," Cottrell said. "Memories range from those of the first live dogs who were so lovingly cared for by Ms. Virginia Crosno and later by Ms. Mildred Boone. And then, on to the many HBU students who have proudly worn the suit to pose for countless pictures, entertain and encourage school spirit."
To alumni who have given and continue to give to HBU, Hernandez said, "Thank you for your support as alumni, and also being willing to give to something that impacted your life while you were a student here, which in turn makes more memories for other students who are Huskies," she said. "We're excited."
---
Mascot Memories
"HBU was playing University of the Incarnate Word in basketball in the Sharp Gym. It was a tough game and was coming down to the wire. After an HBU player fouled, an Incarnate Word player went to the free-throw line. I went down and got on the stage that was located under their basket. Mingo was waving his arms frantically to distract our opponent. All of the sudden, the entire piece of Velcro came loose and detached. Mingo went crashing to the floor, nose-first. Mingo was down, but he got up. Incarnate Word did not score. The Huskies won the game! The fans went crazy! The best part was the San Antonio Express-News wrote an article about the game the next day. The title was something like, 'HBU Mascot Goes to Great Lengths to Help Defeat Incarnate Word.'" ~Judi Vogel Pyburn '94
"I have so many fond memories of being an HBU mascot. Just a few of my favorites are representing HBU as Mingo all over the great city of Houston, riding along in the lead car for the inaugural Husky Hustle, and being on the court as my roommate was crowned homecoming queen." ~Nicci Niedenthal Byrd '03
"Mascots can't talk but I found myself laughing and smiling inside the suit as people would take my picture. Sometimes I would have to squat down to see small kids. My favorite memory was basketball season in 2004. I remember arriving to each game and the crowd getting a little more loud and proud. That energy pushed me." ~Page Butera Hernandez '05