The weekend of July 20 had only film of interest for elderly curmudgeons: the live action version of Disney's "The Lion King." Since I first heard of the film, I questioned the need for its existence. I did enjoy the film, but I still question the need for it. Cynic that I am, I suspect money is the major motive.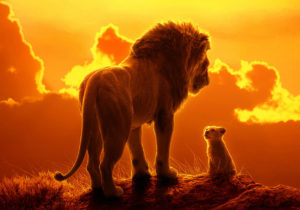 The photography is beautiful, but the Disney "true-life adventure" films of the 1950s, e.g., "The African Lion," covered the same territory. The animals appear to perform spontaneously, but I am sure there were countless wranglers on or near the set. The one less-than-credible aspect of the film is the speaking and singing by the animals. It just doesn't work and I am not sure it can ever be made to work.
The film is rather gruesome in places; death and violence are more pronounced than I remember from the animated version. A grandfather seated next to me had trouble explaining to his granddaughter that it was natural for lions to feed on antelopes and other animals. There was nothing gross, but grandparents should be prepared to answer questions about predators and death.
The best part of the film is Simba's final battle with Scar. It is intensely violent and very effective. It could certainly give nightmares to the wee ones.
I don't know if I will try to see Quentin Tarantino's latest offering, "Once upon a Time in Hollywood," on the July 27 weekend. My quota for violence isn't what it used to be.