Dr. Melissa Carlton, assistant professor of Computer Science and Cyber Engineering, received a personal invitation from the secretary of the Air Force, and attended the 66th annual National Security Forum at the Air War College at Maxwell Air Force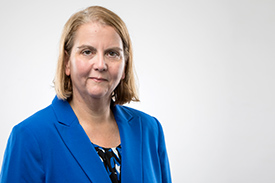 Base, Alabama. The purpose of NSF was to expose influential citizens to senior US and international officers and civilian equivalents in order to engage each other's ideas and perspectives on Air Force, national and international security issues.
During the week of May 14-16, approximately 160 civilian leaders in business, education and government from all over the US met with senior military leaders to explore current and future national security issues facing our nation. The NSF provided a great opportunity for an open and candid exchange of ideas among these guests, senior military and civilian leaders, and Air War College students. Dr. Carlton attended lectures, met in seminars for in-depth discussions and participated in social events.
Dr. Carlton will be able to share insights from the NSF with faculty and students and industry partners of the College of Engineering at HBU. Dr. Stan Napper, dean of the College of Science and Engineering, also attended the National Security Forum in 2016 and nominated Dr. Carlton for the honor. Dr. Carlton's participation strengthens HBU's vision of "Securing America's Future through Engineering." Carlton and Napper are both also members of FBI InfraGard.